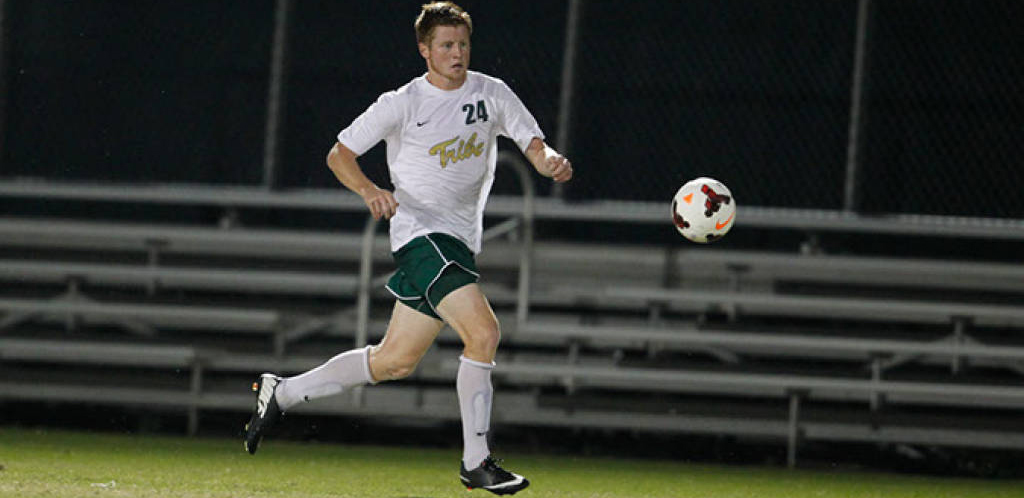 Down 2-1 with just minutes remaining against University of North Carolina-Wilmington, the Tribe seemed doomed to lose an important conference game. In the 87th minute, however, sophomore midfielder Jackson Eskay scored the equalizer to salvage a tie.
The game was a rebound for the Tribe (8-4-2, 3-2-1 CAA), which came back from a tough loss to Delaware in its previous match. The College has won three of its past five matches and is holding on to third place in the Colonial Athletic Association.
The Seahawks struck first in the opening minutes. In the sixth minute, forward Colin Bonner sent a ball to David Sizemore, who then fired a shot that slipped past redshirt freshman goalkeeper Mac Phillips. Sizemore's goal made the score 1-0.
Not to be denied, the Tribe also capitalized on its first shot of the match. In the 12th minute, junior midfielder Marcus Luster found junior forward Josh West in the center of the field. West ripped a shot that deflected off the Seahawks goalkeeper and into the net, tying the game at 1-1. The score gave West a team high of six goals on the season.
The rest of the half was a battle of possession between the two teams in the midfield. The Seahawks held a 5-3 advantage in shots going into halftime.
Entering the second half, both teams were aiming to break the 1-1 deadlock and steal a conference victory. The Seahawks took the lead eventually in the 65th minute, when Sizemore attempted a free kick. Sizemore's shot managed to find the right side of the net, making the score 2-1.
However, the Tribe would not be outdone. The squad found the equalizer in the 87th minute, when sophomore forward Zachary Montebell crossed a ball into the box. Eskay controlled the ball and whipped a shot into the net to tie the match at 2-2.
With the score tied in the final minutes, the match went into overtime. The Tribe generated a chance early in the first overtime, but goalkeeper Sean Melvin stopped Luster's shot. The Seahawks also mustered a shot attempt in the first overtime period, but Phillips was able to save midfielder Mateo Cardona's shot.
Both teams had scoring chances in the second overtime period, but neither squad could capitalize. Freshman forward Reilly Maw's shot at the beginning of the second overtime half was blocked. The Seahawks last chance came in the 109th minute, when Phillips saved midfielder Jose Garcia's shot.
The Seahawks led the match in shots 15-13, but Phillips was strong in goal with six saves on the night.
The College returns home Wednesday to face James Madison at Martin Family Stadium for senior night, its last regular season match before the CAA tournament. Kick-off is set for 9 p.m.