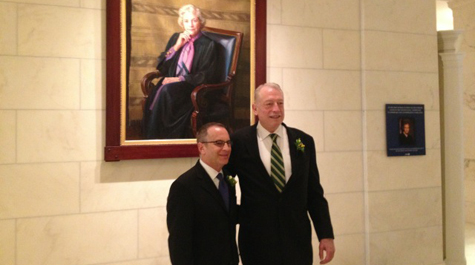 Former College of William and Mary Rector Jeffrey Trammell '73 married his long-time partner Stuart Serkin in a ceremony held at the Supreme Court last Tuesday, Oct. 29. Retired Supreme Court Justice and former Chancellor Sandra Day O'Connor officiated the wedding.
Trammell, who was the first openly gay rector in Virginia, said the couple chose Justice O'Connor to officiate to "continue the tradition" of leadership at the College.
"There is a tradition at William and Mary that plays a part here. Its respect for each other, and treating everybody equally and fairly," Trammell said.
In June, the Supreme Court struck down parts of the Defense of Marriage Act in the case "United States v. Windsor." The court ruled that the rights afforded to legally married same-sex couples must be respected under the equal protection clause. According to the Associated Press, Tuesday marked at least the second same-sex wedding conducted at the court since the decision was announced.
EqualityWM, the College's gay, lesbian, bi- and transgender faculty and staff organization, congratulated Trammell on his achievements as rector and on his wedding.
"Jeff has been tireless in his support of Equal Rights for all Virginians and we celebrate this milestone in his life," the group said through a spokesman.
Out of respect for his and his partner's privacy, Trammell declined to comment on the particulars of the wedding. However, he said that the ceremony was  "special but routine."
Trammell, who has worked for U.S. Secretary of State John Kerry and Al Gore, remains heavily involved in political advocacy. In 2001, he founded a public affairs and lobbying firm in 2001 that he continues to run with his husband, who works as the company's chief financial officer. Recently, Trammell said much of his focus has been on higher education.
"In the past few years my priority has been William and Mary," Trammel said.
Over the summer, Trammell issued a call as Rector to offer same-sex benefits to those on the College's payroll. Following the Supreme Court's decision in Windsor, Trammell sent a letter to the presidents and rectors of Virginia colleges arguing that Virginia schools must offer same-sex health benefits to maintain a competitive edge.
On Sept. 24, the Faculty Assembly passed a unanimous resolution recommending that same-sex employees at the College receive benefits.
While at the College, Trammell played on the basketball team and was president of Lambda Chi Alpha fraternity. Trammell also served as Rector for two terms starting in 2005. He stepped down this July.