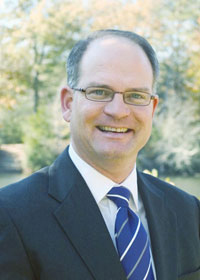 Democrat Monty Mason '89 defeated incumbent Mike Watson for the 93rd District House of Delegates seat with 52 percent of the vote Tuesday.
Mason received a total of 12,140 votes, while Watson received 11,102. In the city of Williamsburg, Mason had an even stronger lead with 2,760 votes, or 64 percent, with Watson pulling in 1,532, or 35 percent.
President of the College of William and Mary's Young Democrats, Zachary Woodward '14, said he thinks Mason won because his message resonated with a larger amount of voters. Woodward said he hopes Mason will work across party lines to tackle Virginia's issues during his term.
"Our government is now divided between the two parties, and our representatives will have to learn to compromise," Woodward said. "I'm optimistic that Monty will be a leader for common sense and bipartisanship in the next session."
Christian Bale '14, president of LGBT rights group William and Larry, said Mason's victory represents a step forward for gay rights and other social issues.
"The governor has a large amount of power … but it's really exciting a local politician that we can contact and speak with is on our side," Bale said.
Bale said he hopes to see Mason continue to advocate for LGBT rights, specifically same-sex equality in the workplace. Doing so, Bale said, would help the College attract stronger faculty that may otherwise choose to work elsewhere.
"Mason understands that, to build a strong economy, you need to extend rights and benefits in the workplace to [the LGBT community]," Bale said.
William and Larry plans on starting a College-wide petition that advocates for the extension of benefits to those with same-sex partners. Bale said Mason will host the club in the spring when they go to Richmond to speak before the Virginia Legislature on the issue.
Watson conceded to Mason Tuesday evening. In an interview with the Williamsburg-Yorktown Daily, campaign manager Tyler Foote spoke on behalf of Watson to wish Mason luck in office, adding that Watson will continue to be involved in politics.
"Delegate Watson accomplished a lot as a freshman legislator, and I would expect him to continue to be involved in the legislative process and to continue to serve the public and the community as he always has," Foote said.