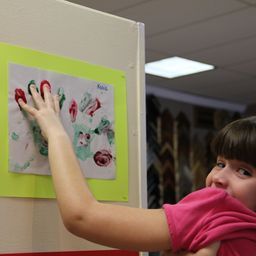 For 15 local children, Saturday afternoons mean a trip to the College of William and Mary, paint splatters and messy fun with the student volunteers from the College's Buddy Art program. These kids possess a range of mental and physical disabilities, and the volunteers seek to establish a friendly environment within which they can socialize and create art.
"The volunteers come in, set up art stations and then wait to be paired up with a child buddy," Buddy Art President Maggie Skorup '15 said. "There are 8 to 10 different art stations, ranging from coffee filter projects to clay. The most important part is that the child buddy decides what to do at their own pace. We try to stay away from using the word 'no,' unless the situation becomes dangerous, and instead try to foster a judgment free environment where the children are comfortable being themselves."
Every Saturday, the children buddies come in, meet the college volunteers and get right down to business. They hop from station to station, creating one project after another.
"It is an awesome opportunity to not only show their creative side, but also gives them the ability to really make some friends," volunteer Katie Greenberg '16 said.
One child, Sam, is known to get particularly messy. Instead of painting with his hands, he actually paints his hands. After he is satisfied with the coat and color, he walks around the room shaking people's hands and cracking up when they humorously realize that their hands are now painted too.
"His face just lights up and it is so fun to see him playing with everyone," Skorup said.
Each Saturday session is about an hour long, but the volunteers agree that at some point the children all stop the art projects to blow bubbles or collectively play a game of duck-duck-goose.
"When my buddy was picked as the goose this one time, she let out such a shriek of excitement I smiled and laughed along with her," volunteer Megan Tatum '15 said.
Skorup's child buddy's name is Katie. Every time she comes in to Buddy Art, she makes another item for the imaginary restaurant she created.
"It is called 'Snazzy Burgers,'" Skorup said, "She has made many individual burgers, complete with buns, lettuce tomato and a patty. There are also menus and milkshakes. Each day she comes in, I can't wait to see what she decides to create."
Skorup has been paired with Katie for two years now. In the beginning, Katie was very shy.
"She got overwhelmed by other people, but after a semester of working with her she came out of her shell a bit and even came in one Saturday and gave me a little thank you card that she had made," Skorup said. "That was one of my favorite Buddy Art moments."
The children create all sorts of different projects at these sessions and this year their art was put on display at the Prince George Art and Frame Gallery Saturday, Oct. 19.  Tatum called the event an hour of fun.
"You could tell the parents loved to see the buddies' artwork hung up," Tatum said. "There were just a lot of smiles and laughter."
The program hasn't always been this successful. A graduating group of College students founded the Buddy Art Program in the spring of 2008. Buddy Art had actually been a program run by the Office of Community Engagement. The organization suffered due to lack of support, leading to inconsistent meetings. That changed when the current on-campus group formed to specifically support the Buddy Art program.
"I could not do it without them. It was the best thing that has happened to this program," Buddy Art Coordinator Karen Schwartz said. "Everyone has agreed to a consistent time and it just wonderful for the parents to see their children having so much fun."
As opposed to a more formal school setting, Buddy Art seeks to allow the children to express themselves freely.
"Working one on one with the volunteers means a lot to the buddies," Skorup said. "The environment makes them feel comfortable and there is no doubt that we are always excited to see each other."