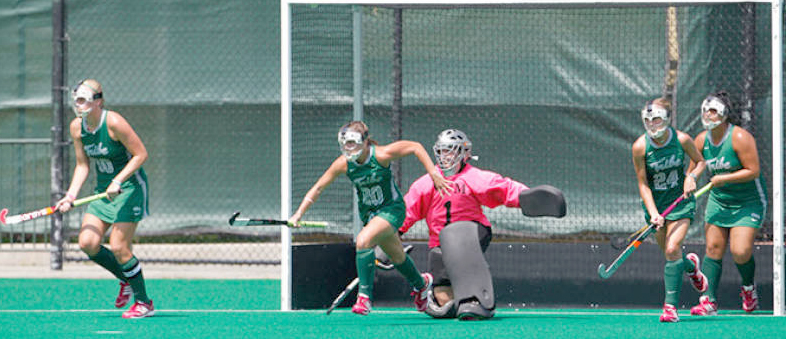 William and Mary's season came to a close Friday with the Tribe losing in the Colonial Athletic Association tournament semifinal.
No. 17 Delaware defeated the Tribe (8-11, 3-3 CAA) 2-4 to end its up-and-down season. Delaware went on to defeat Northeastern in the finals, snagging the title of 2013 CAA Champions.
While the Tribe outshot Delaware during the first period 9-8, the Blue Hens scored three goals in the first half. The Tribe appeared in control of the field for the first few minutes of the game with two consecutive penalty corners from sophomore forward Pippin Saunders. However, Delaware forward Kasey Prettyman was able to score off a penalty corner on the opposite end at 12 minutes 54 seconds. Prettyman's goal energized her team and, five minutes after, fellow Delaware forward Michaela Patzner shot a goal past sophomore goalkeeper Cate Johnson.
Delaware goalkeeper Sarah Scher kept her net untouched with seven saves in the first period until junior forward Lindsey Buckheit was able to make an unassisted goal off a rebound 32 minutes in. In response, Blue Hens forward Meghan Winesette managed to score once more before halftime
Delaware spared no time in compounding its lead in the second period. Less than two minutes into the second half, Blue Hens forward Esmee Peet scored on a shot 10 yards straight up the field. The Blue Hens outshot the Tribe 15-3 in the second half and 23-12 total. Johnson defended fiercely with nine saves in the second and a total of 12 saves throughout the game.
By the time sophomore midfielder Esty Byrd scored a shot from 15 yards away 67 minutes into the game, the prospect of a Tribe win was all but out of the question. Delaware immediately brought the ball back to the Tribe's zone, and the game ended with an unsuccessful shot on a penalty corner.
So ended the Tribe's challenging season in which it played unevenly throughout. However, head coach Tess Ellis was awarded the CAA Co-coach of the Year for her team's improvement in her first year as head coach, replacing long-time coach Peel Hawthorne.