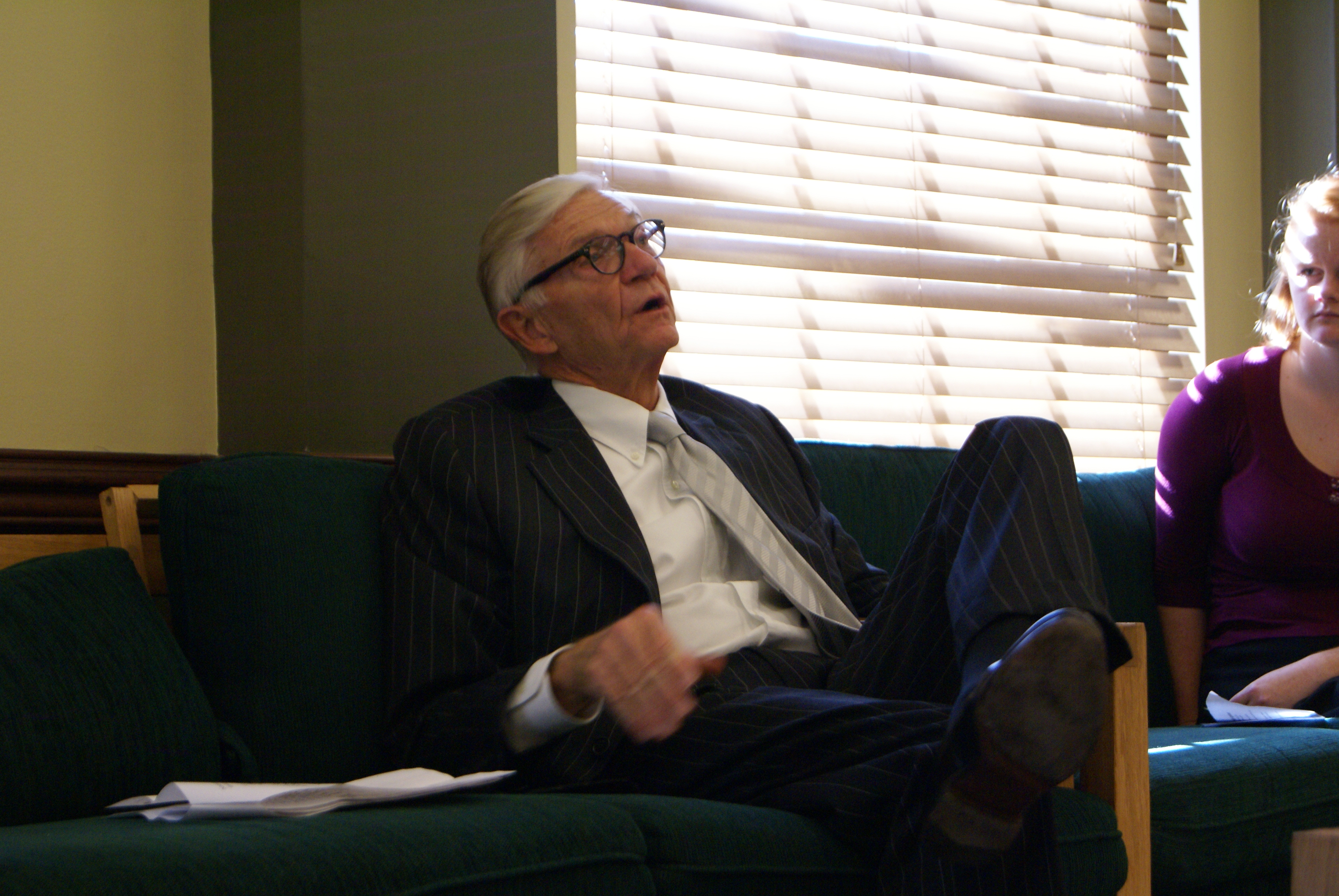 "I hope I'm not still awake by 9:30 and that I'm not demonstrably embarrassing, because it truly could happen — I didn't get much sleep," College of William and Mary President Taylor Reveley said at a community discussion last Friday.
Between traveling around the world to attend alumni events and enjoying a relaxing Friday night at the opera, Reveley sat down with students for a discussion about the community. Even in his sleep-deprived state, Reveley did not fail to share his wisdom on the issue of access to college, cracking jokes as usual along the way.
The discussion, hosted by Coordinator of Community Engagement Elizabeth Miller '11, was open to all students and faculty members.
"We wanted as [many] people as possible to join in the process," Miller said. "A large part of President Reveley's job is making sure that such experiences are open to as many people as possible."
During the talk, attendees had a rare glimpse into some of the more obscure aspects of the president's personal life. Special features included Reveley's experience building sandcastles and his low level of enthusiasm for the opera.
"My third son is into intricate sandcastle architecture and appearance; I'm more into fighting the waves," Reveley said.
Small-talk aside, Reveley discussed his outlook on the issue of access to college, elaborating on the tradeoff between merit and need-based financial aid. Reveley expressed his support for helping students access higher education, despite the College's financial struggles.
"This is a university with an already demonstrated capacity to do enormous deeds with very few resources," Reveley said. "If we could pull the resources, one of the first things we would fix is need-based financial aid."
While these community discussion sessions take place every semester, many wanted to hear from someone at a different stage in their lives. Reveley served as a special guest in this particular session to share his experiences of being an active citizen.
"Having an open discussion with President Reveley was such a unique opportunity to get a glimpse of the community issues important to him," Julianne Abruzzo '17 said. "Knowing [about] his concerns is important because they are probably the issues which he and the College are trying the most to remedy."
Many of those who attended the discussion were Sharpe scholars who were drawn to the issue of civic engagement. They noted that hearing the president's take on pressing issues in the community provided great encouragement for their own endeavors.
"I appreciated his trust in our opinions, because in a sense a lot of future policy decisions will come from our generation," Abruzzo said.
At the end of the day, some attendees said they were inspired to take community engagement to the next level. A few stayed after the session to discuss modifying the established Home for the Holidays Program so that students could spread word about the College in underserved schools. Miller noted that this reflected the primary goal of the session.
"Now the students have the opportunity to answer the 'now what' of how to take action around the issue," Miller said. "That's a huge part of why we host these discussions: so that students can come together to learn and also form a community around addressing the social issues."
Reveley also described what he calls his "pilgrimage in the non-profit world." Reveley has been noted for his contributions to a number of non-profit education and cultural boards, including those of his alma mater, Princeton University.
He isn't done just yet; the conversation Friday afternoon served to instigate the students at the College to take up roles as active citizens in the community.
"As President Reveley mentioned, one of the benefits to students who come to William and Mary is that they gain the knowledge and support to make real changes in the world," Miller said.