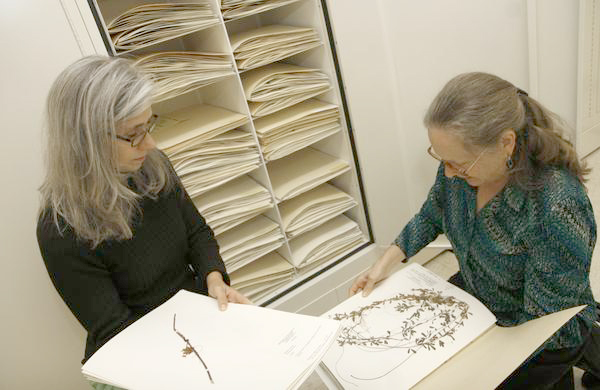 WILLI, the herbarium of the College of William and Mary and second-largest herbarium in Virginia, houses a collection of 78,000 different specimens.
The herbarium aids in research projects concerning the flora and biodiversity of Virginia, particularly those related to species of the coastal plain.
According to Director Martha Case, the herbarium's specimens help with determining the geographic ranges of species by documenting the variations, both external and genealogical, within a species and identifying plants.
"You can actually get all kinds of microscopic and macroscopic information from them because the actual specimen is there, and that includes things like DNA," Case said.
The information gathered from specimens is useful in a variety of projects from creating flora to tracking the distribution of plant diseases. It also can be used to study how climate change affects the flowering, and consequently the lives, of plant populations.
"I think it's really important that people understand the diversity that's out there," Case said. "It's important to convey that kind of diversity so we can make good decisions about land use and good, wise, environmental decisions."
Faculty and students collect half of the herbarium's specimens. The remaining specimens come from gifts and inter-herbaria exchanges of duplicates, which are specimens collected on the same day, by the same person, in the same species and geographic area.
"We're like Interlibrary Loan," Curator Beth Chambers said. "They only send out to other libraries, and so we only send a loan out to another herb that's part of our organization."
Chambers explained how sending gifts to other herbaria establishes credit with them and that the exchange program helps the herbarias grow.
The exchange program is also important because duplicates at different herbaria constitute a kind of insurance in the event of a loss, such as a fire, at one herbarium. Duplicates prevent the loss of the whole sample.
"Even though we have this wonderful collection here at William and Mary, the vast majority of people who actually use it are outside of William and Mary. We've sent thousands of specimens out," Case said.
The students who work with the herbarium help mount specimens and also help to digitize the collection into a database. Chambers argues that while the database is more efficient in finding specimens, it does not surmount the importance of the collection itself.
"There's kind of a movement to say that we don't need all this space for maintaining these specimens, we can just look at a picture or something, but you can't get DNA from a picture. It's just not the same," Chambers said.