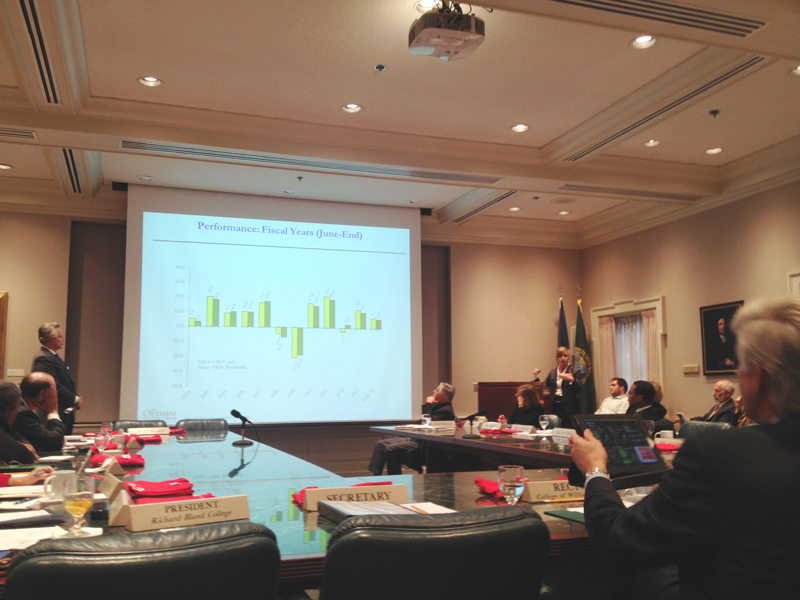 The College of William and Mary's Board of Visitors full board meeting commenced with board members mourning the recent loss of College community member Austin "Gus" Deeds before moving into BOV initiatives introduced at committee meetings occurring Nov. 20, 21 and Nov. 22.
College Rector Todd Stottlemyer '85 made an opening remark on student accomplishments in academics, athletics and service at the College.
Specifically, Stottlemyer mentioned the College's 14 recent Fulbright scholars, its ranking as the No. 1 public university for students studying abroad according to the Institute of International Education's 2013 report, and the College's men's cross country team's 14th consecutive Colonial Athletic Association championship and women's cross country teams' second consecutive CAA championship.
"[Students] not only thrive here on campus, but also have exposure to the world," Stottlemyer said.
After Stottlemyer's review of student activities, Vice Rector Robert E. Scott J.D. '68 discussed the teaching and research dimension of the College. Scott described the Arts and Sciences faculty committees as a unique quality of the College.
"They are all at work in one way or another to have the best implement  to enhance academic innovations ," Scott said.
Scott proposed possible ways for the Academic Affairs Commission to fulfill the College's obligation as a leading university in undergraduate teaching. The proposal calls for two major initiatives designed to facilitate the teaching mission at the College without sacrificing its commitment to research.
The first initiative requires matching the teaching obligations of an individual faculty member with his or her current research productivity, which requires crediting invisible or less visible teaching outside of the classroom, as well as creating a flexible merit evaluation system to balance research and teaching obligations in personal cases.
The second initiative recognizes critical teaching faculty — invigorating them to the governing structure of the varied schools, and, most importantly, providing a long-term career path for those who want to pursue full-time teaching careers.
College President Taylor Reveley shed light on strategic financial fundraising to better the functions of the College. The president discussed sources for financial support, given that less than 14 percent of the operating budget are provided by the Commonwealth of Virginia. Reveley stressed the importance of financial contributions as a joint effort of students, families and alumni.
"We are going to build an extraordinary financial foundation for William and Mary and, if one group pops out, this is not going to work," Reveley said. "We will spend wisely, as we will extract every essence of a dollar."