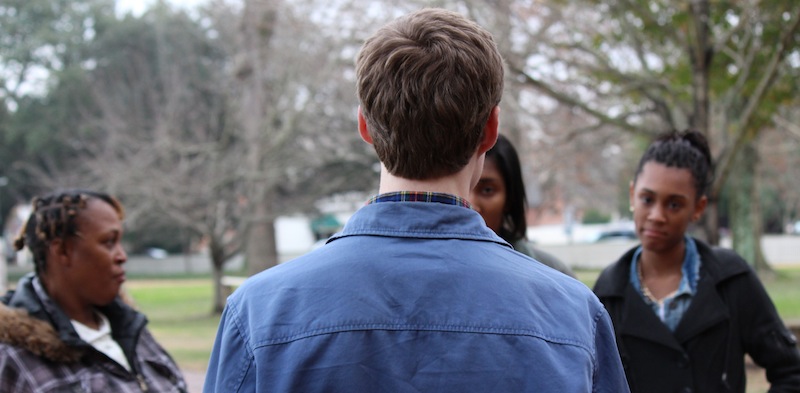 Instead of the usual picturesque road curving past the Crim Dell, ugly orange construction mesh glared at the group of prospective students and their nervous tour guide.
Richard Murphy '14 knew he had to tell the story of the Crim Dell Bridge and get his tour group across the road to show them Earl Gregg Swem Library; the problem was how. As it turned out, the only way to get past the construction was to walk through the trees and over the famed bridge itself.
"Some women were mad about walking through the woods, but some others were Richard fans and were into it," Murphy said. "I told the story about the bridge and said, 'We are all going to be best friends forever.'"
Murphy's recounting of the story of the Crim Dell Bridge, in which lovers who kiss on the bridge will be together forever, was less than enchanting for some irate members of his group, who had not wanted to walk through the woods. However, after the tour, one of the "Richard fans" approached him and said, "I'll never forget this."
"I was like, wow. It made an impact," Murphy said. "That's a big splash to make."
"A big splash" aptly describes the role of tour guides, who show off the College to hundreds of prospective students every semester and summer. Although there are currently 67 tour guides in the program, the higher-volume spring season typically employs around 100 students.
A tour of the College begins with an information session at the admissions office, then winds its way through Old Campus and the Sunken Garden. From the very beginning, when tour guides introduce themselves with the wackiest fact that comes to mind during the information session, tours are steeped in personal stories.
"Being full of facts and figures makes [a tour] insincere," Senior Assistant Dean of Admission and Director of Multicultural Recruitment Tish Lyte said. "Nobody tells [our tour guides] what to say. It's supposed to be their story."
Guides make the tour as individual as possible, and there is no specific set of facts they must say on their route.
"There's a fine line between giving a tour and showing a place off. A tour is not as personal," Colin Danly '15 said. "The best tours are when I don't map it out and can interact with people and not get too bogged down in details."
Guides give two tours a day during the summer, sometimes to groups of 50 or more.  That adds up to walking over three miles backward in the dripping Williamsburg summer heat.
After browsing Old Campus, tours visit the Jamestown dorms, the Integrated Science Center and Swem. This is where a guide may talk about a science major or his or her favorite experience in Swem. The aspect of personal stories is only one way in which the College tour program is different than other schools'.  For example, all that walking backward and looking cheerful does not garner payment. The program began as a volunteer program and has never offered a stipend.
"I hope we never pay," Lyte said. "Guides come in because they want to, and it lends authenticity."
Despite the lack of monetary benefits, the College's tour guide program thrives. Members often joke that it is harder to become a tour guide than it is to get into the College. Kate Fitzgerald '14 pointed out that 200 people applied to be guides this season, but the program only accepted between 35 and 45 new guides.
To be a College tour guide, you have to really want it. This high standard drives up the stakes every year for applicants. Senior Assistant Dean of Admission Justine Oakerton, who works in campus programming, emphasized that tour guides need to be able to connect with people one-on-one, but also have the presence to talk to groups of 50 people at once.
"We look for spark and passion, but especially the ability to craft a story," Oakerton said.
Crafting a story can be harder for freshmen, who have spent less time on campus. For Sofia Chabolla '14, the third time applying was the charm.
"I started tour guiding as a junior. I applied in freshman year and didn't get in, then got to the second round sophomore year," Chabolla said. "I'm still passionate about it."
When hiring tour guides, Lyte and Oakerton try to reflect the entire campus body by picking students with different majors, backgrounds and interests, so that as many prospective students as possible will find a guide to whom they can relate.
Once tours have seen Swem, they continue to the Sadler Center and the Crim Dell. Guides may talk about the Terrace and the sparkling Career Center, which must seem a distant future to prospective students. Regardless, it is a beautiful building and part of a beautiful campus where nothing goes wrong. At least, that is what tour groups want to hear, which creates pressure for tour guides who strive to be honest, but who want to make their groups want to attend the College. Parents and prospective students often ask what the tour guide does not like about the school.
"There's nothing to trash [about the College]," Victoria Chaitoff '15 said. "I keep it honest. You can give the student consensus, but spin it in a positive light."
Chaitoff and Danly agreed that the dining halls' food is one aspect that students complain about, but which guides can positively spin. However, some questions require more delicate phrasing. Occasionally, people ask about the school's suicide rate. Some tour guides believe, in this case, honesty is the best policy.
"It's not a suicide school, but it can happen," Fitzgerald said. "But there are lots of services for students to help them. I'm aware that not everything is perfect and I'm not trying to make it seem perfect."
After visiting the Sadler Center and the Crim Dell, the tour guide leads his or her group to Monroe Hall, where they glimpse a "typical freshman dorm room," an uninhabited showroom on first floor of Monroe. This gives potential students a greater connection with the school as they imagine this being their room.
Striving to create a unique experience for every tour can get exhausting, and every now and then guides, give bad tours. Sometimes no one in a group wants to ask questions, make comments or laugh at jokes, giving the guide little to work with. Other times, unpredictable situations arise to test guides' reactions. Chabolla described a day over the summer when a girl had a seizure during a tour. On a more amusing note, a tour Danly was giving got a little weird as they walked by the Sunken Garden.
"It was like a scene from a movie," Danly said. "Some students ran up and party-boyed the tour. People were smoking hookah on the Garden and playing instruments in trees. All three at once was just a lot."
The final step of a tour, and the part that many guides list as their favorite, is a trip to the Wren Building. Here guides talk about why they chose the College. For Chaitoff, it's a funny story about initially hating her trip to Williamsburg and then abruptly falling in love with campus. For Danly, it's a capitulation of the themes he has emphasized throughout his tour: tradition, community and genuineness. For Murphy, it's about pride as he takes his group into the Wren Building and talks about the Honor Code.
However, guides choose to spin it, tours are an opportunity for them to display what they love most about their school. Common to all these guides is a singular passion for the College, and an equal passion for sharing it.
Chabolla admitted that she often thinks about how her tours affect who attends the College. This pressure was vindicated one afternoon when a freshman approached her.
"You're my tour guide," Chabolla said, recalling the freshman's words. "You're the reason I came here."