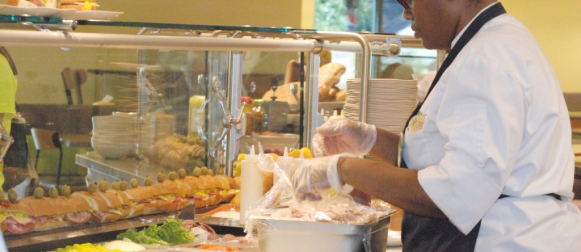 The number of meal plan holders increased considerably last semester compared with the previous year. Fall 2013 marks the second year that students, starting with the class of 2015, were required to purchase a meal plan if living on campus.
For the fall 2013 semester, 5,027 students had meal plans, an increase from 4,731 students holding meal plans during fall 2012. This is the last year that students living on campus can opt out of a meal plan. The policy was partly implemented to fund the Sadler Center renovations.
"The Sadler Center was in desperate need of renovation," Marketing Manager Faren Alston said. "We were hoping to see an increase [in meal plan holders] with Sadler renovations and the Mongolian grill."
Alongside the increase in meal plan holders, the number of meals served rose from 44,500 in the fall 2012 to 48,400 in the fall 2013. Meals served are measured by meals swiped.
"The positive reception [of the Sadler Center] translated to additional meal plan holders," Alston said. "We worked hard on the menu to make sure we have the variety students want."
Dima Royzman '14 has taken full advantage of all that campus dining has to offer. He has held a meal plan all four years and is currently on the Gold 14 Plan, which includes 14 meals a week and $175 dining dollars a semester. Last semester, Royzman was on the unlimited plan. He cut back this semester not because he was wasting meal swipes, but because he wants to develop conscientious monetary habits for life after college.
"I'm a runner, so maybe that explains my appetite. I'm going to miss [the meal plan]," Royzman said.
One of the most popular additions to the Sadler Center has been the implementation of the Late Night option, which runs every evening until midnight for students looking for a later meal. On average, about 200 students frequented the option per night last semester. Although students are now accustomed to Late Night, Alston does not think its novelty will wear off. Campus Dining has received positive feedback about Late Night because it allows students to use their swipes and relax their eating schedules.
"It has increased flexibility for students. I think the program will remain popular," Alston said.
Victoria Goldsby '16 attended Late Night frequently last semester. Goldsby held the Gold 19 Plan, which includes 19 meals a week and $150 dining dollars in the fall. She recalled using her swipes at Late Night.
"If I missed an early meal time, I could come in and not be hungry and use meal swipes," Goldsby said. "It makes my schedules more flexible."