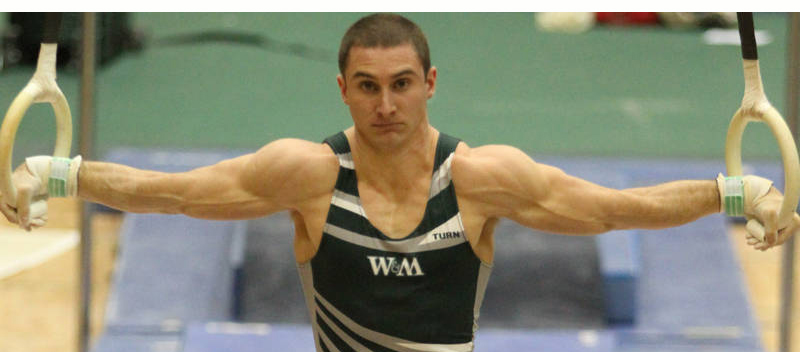 In its first competition of the season, William and Mary finished second at the West Point Open Friday, outcompeting four teams. The team also performed admirably in Saturday's individual finals.
The Tribe placed second behind Penn State, the No. 4 team in the nation, with a score of 416.7, just ahead of host Army's score of 413.05. Two-time National Collegiate Athletic Association All-American senior Landon Funiciello led during the team meet and then punctuated the Tribe's performances in the individual events.
During the team meet Friday, Funiciello finished first in the rings competition, third in parallel bars and fifth in the floor competition. Funiciello broke his own school record in the rings by scoring a 15.95, his second consecutive record-breaking performance in the event.
Junior Jason Wang established a new school record on the pommel horse with a score of 15.1, beating sophomore teammate Keaton Ackerman's record from last season. Junior J.J. Jindra and senior Daniel Potemski finished third and fourth in the all-around.
Sophomore Neal Courter, a fellow former NCAA All-American, and Funiciello each advanced to three finals during Friday's events. Courter earned second place in the floor competition with a score of 15.2, then placed third in the vault and fourth in the high bar.
After losing out by just 12 points in the team competition Friday, the Tribe got back to action Saturday for the individual competitions. Funiciello, again, led the team with a first-place finish in the parallel bars with a score of 14.85. Courter placed second in the floor competition, earning a score of 14.45, while Funiciello finished fifth in the event.
Senior Daniel Potemski placed fourth in the vault competition with a score of 14.4. Ackerman placed sixth in pommel horse with a score of 13.05.
The Tribe heads to Annapolis next weekend for the Navy Open, where it will compete against Navy, Penn State, Temple and Springfield.