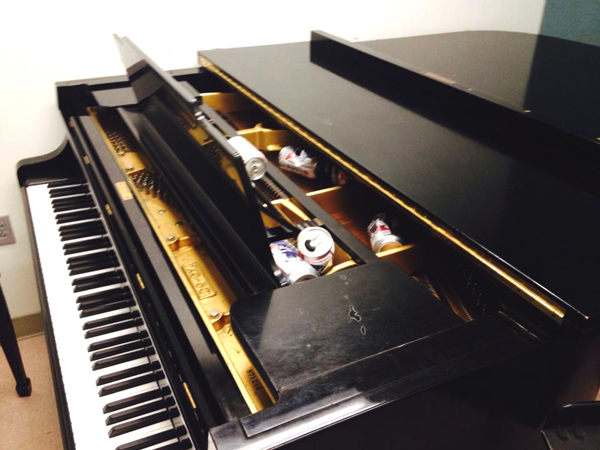 When Taylor Williams '14 entered Ewell Hall Sunday morning to practice for a voice lesson, she was met with an unpleasant surprise.
"When I walked in, I immediately smelled beer and then noticed that the piano was filled with PBR cans. … There were about seven cans and they seemed empty but the smell of beer was still very strong," Williams said in an email.
Williams later decided to post a picture of the piano to the Facebook group "Overheard at William and Mary." The post received over 200 likes and about 30 comments as students responded to the damage evident in the picture.
"Honestly, I was just so embarrassed that someone from [William and Mary] would do something like that, and I wanted people to know that it was not okay," Williams said. "I was just so shocked to find something like that."
Practice room pianos are accessible to all students at the College of William and Mary. While some rooms in the building, like the recital hall, are available by reservation only, other areas, including practice rooms, do not require students to swipe their ID cards or sign in. Music professors said that vandalism in Ewell practice rooms is not unheard of.
"Even though doors are locked to the building and access is by swipe card, students find ways of entering," Director of Applied Music and Piano Instructor Judy Zwelling said in an email. "The custodian has found beer cans, clothing, etc. here when he arrives in the early morning. It's disheartening and appalling to us that any students would vandalize the instruments and property. The vast majority of students are upset about this."
Many of the comments on the Overheard post condemned the perpetrators.
Music Department Chair Anne Rasmussen said incidents like this tend to occur once or twice a year. However, she said she does not think that practice rooms should necessarily be restricted to music majors.
"We don't have money, and even if we did have money, I wouldn't want to lock that down, because there's probably someone who's really creative and wonderful who would like to play the piano in the practice room," Rasmussen said. "On the other hand, there are schools of music where only music majors can use the piano and have access to the piano with card swipes and keys, but I don't see that happening here."
She added that, in her view, making students use their IDs to enter a practice room would not be enough to stop incidents from happening.
Williams agreed that students should not have to swipe in to use the practice rooms in Ewell.
"I think [William and Mary] students are responsible, intelligent and definitely old enough to be trusted with school property," Williams said. "The honor code we have is so unique, and I really am proud of the network of trust that exists on this campus. I don't know, obviously this person did not live up to these qualities, but I'd like to think that, as a whole, our student body is capable of respectfully using school property."