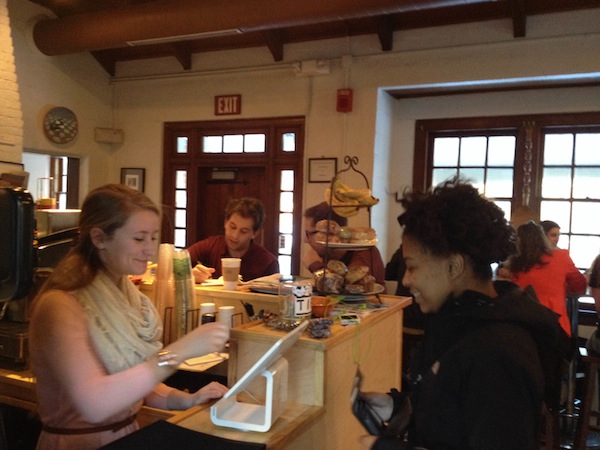 If you did a double take the first time you entered the Daily Grind this semester, you are not alone.
The familiar, comfy student-run campus coffee shop underwent a redesign over winter break, creating an atmosphere that could only be described as a cross between a European coffee bar and a 1950s lunch counter. The new layout leaves patrons with many new places to sit, leading to greater convenience.
The redesign provides more counter space, kitchen space and an additional 14 seats for patrons.
"I think that Scott tries to change it up every semester to give it a fresh look and revitalize the energy," Daily Grind Barista Betsy Coco '14 said. "Every semester he's seized different things that could make the place better."
Daily Grind owner Scott Owens did just that. Weeks before students returned to campus this semester, he walked into the Grind with his toolbox, ready to get down to business.
Owens removed the couches and replaced them with wooden benches and longer tables. Then he refurbished the previously wooden kitchen to a completely stainless steel design. He stated that the Grind has evolved and become more food centered than it was originally. The stainless steel kitchen reflects this new reality.
Along with the increased demand for food came increased patronage. In past semesters, many students complained about the long lines — and even longer wait time — that accompanied a trip to the Grind.
"If you were here last year, you noticed how crowded it was and how there were lines out the door," Owens said.  "We had to turn people away, and that really bothered me. We should never have to turn people away."
The espresso machine now faces the front door like in a traditional coffee shop.  In place of a cash register by the door, Owens has set up four raised seats and a brand new stand of fresh-baked pastries.
For baristas, the new behind-the-counter space has provided both new challenges and new advantages.
"You have to get re-acclimated to where stuff is," Daily Grind Barista Kylie Thorpe '14 said. "There's more space behind the bar, which is nice for us."
Patrons have also taken notice of the changes. Daily Grind regular Scott Caravello '15 noticed the changes his very first day back on campus.
"I like how the counter is set up different so we can wrap around and aren't forced out into the cold," he said.
Fellow Grind regular, Micah Luedtke '15, agreed that the new design has its benefits.
"I like the new benches; they're very versatile. The space feels more open, like it flows better, but I miss the couches with all my heart," Luedtke said.
A beloved and somewhat tattered fixture of the Grind for many semesters, the old, blue couches were constantly crammed with students working, laughing or napping.
"I knew I was going to hear a lot of flack for removing the couches, but once they see the new set up, most people would fall in line. It's just that most people don't like change," Owens said.
Despite the changes, the Daily Grind still holds its characteristic smell of warm bagels and hot coffee, as well as its familiar optimistic buzz.