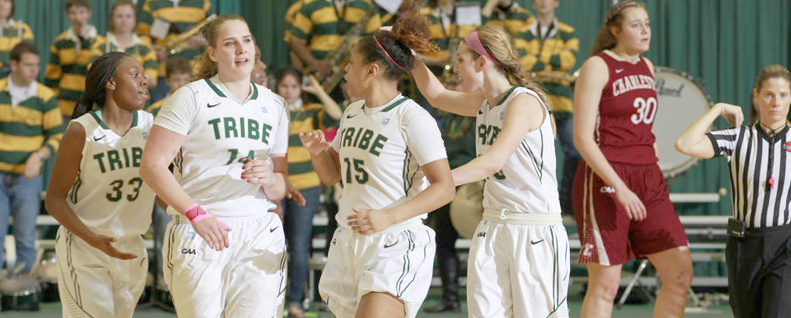 Following a loss last week, William and Mary completed a comeback in an exciting conference match Sunday at Kaplan Arena, rising to victory over the College of Charleston (11-10, 4-4 CAA) 81-76.
The Tribe (5-14, 2-5 CAA) had four players score in double digits. Senior forward Kaitlyn Mathieu and freshman guard Marlena Tremba scored 21 points each, while junior guard Kyla Kerstetter recorded 17 points and 11 rebounds for her first career double-double. Freshman point guard Latrice Hunter added 13 points.
"I think everybody does their part, I think everyone has a role. We need Latrice's help because she gives us a different dimension. We have four players averaging in double figures, so we're moving the ball around and sharing the ball well," head coach Ed Swanson said. "I think that's the important thing, but you know everyone is vital on the team."
In the first half, the College led by as many as eight and turned in an even performance offensively.  Tremba hit both of her foul shots, and Mathieu followed with a three-point shot, giving the Tribe an early 9-5 advantage.
A Mathieu steal and an outlet to Kerstetter gave the College an 11-5 lead. Following the quick start, the College continued to lead for much of the half. Despite the success, Charleston would take a 42-38 lead into the break, courtesy of a 10-0 run.
The second half saw a close matchup, as the Tribe tied the game five times before retaking the lead. Unlike the first half, during which the College led for the majority of the period, Charleston stayed in the lead until Hunter's free throws tied the game with four minutes remaining.
Junior forward Jazmen Boone hit a pair of foul shots for a 70-68 College advantage. Charleston fought back to try to reestablish its lead, but it failed to do so thanks to Mathieu's jumper and Hunter's three-pointer in the last three minutes.
"I just let it fly and I kind of felt it because we did a lot of shooting today, so I felt good taking that shot." Hunter said.
In the last minute, Kerstetter converted from the line while Mathieu made two foul shots, giving the College the conference upset win.
The two freshmen, Tremba and Hunter, continue to contribute heavily. Hunter leads the offense, while Tremba has recorded high scoring averages of late.
"Marlena's been amazing, sometimes it goes unnoticed [with] the other things she does. She draws so much attention and really opens the floor, and she's great at moving and finding openings," Kerstetter said. "I have the ball in my hands a lot, and she's always where she needs to be to help me get it to her. I love playing with her."
Along with the freshmen, veteran Mathieu has been racking up points, including a team-high six double-doubles on the season.
"Coach has been getting on me that I need to play inside more and that my inside game will create more of my outside game and that I could get shots outside in the offense whenever I want to," Mathieu said. "I think that I've tried to focus more on my inside game and establishing myself inside and working on getting rebounds, and my team does a great job of moving the ball and getting the ball into open spots so that's about it."
The College hosts conference-leader James Madison (16-4, 6-0 CAA) Tuesday, looking for its second consecutive home victory. The tip is set for 7 p.m. at Kaplan Arena.