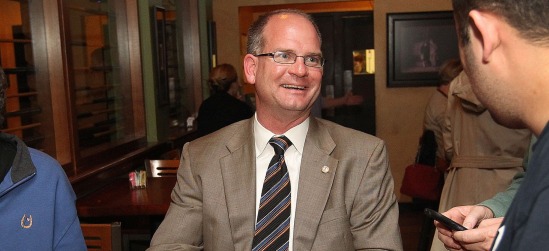 Shades of 48 is a William and Mary sports blog started by current Flat Hat Online editor and former Sports editor Jared Foretek along with former Sports editor and Editor-in-chief Mike Barnes '13. In conjunction with Shades of 48, The Flat Hat will be republishing the blog's work here
Monty Mason was sworn in to the Virginia House of Delegates in January to represent the 93rd district of Williamsburg and some of Newport News. Since graduating from William & Mary in 1989 with a government major, he's been an active alumn of the College, and these days you can find him sitting on the floor at most home men's basketball games. We asked him about his experience at the College and his thoughts on the current team.
Jared Foretek: Did you play any sports in high school or at William & Mary?
Monty Mason: I sure did. I played football, basketball and baseball in high school. And then I came to William & Mary and actually played a year of baseball here. We were really bad and I started about the last twelve or fifteen games of the year but it turned out to be one of those things that was the only thing I could do and I just wanted to be involved in so much more at school. Probably one of the hardest decisions I ever made, giving up baseball in college but I only played my freshman year. I like to tell people I mostly chased foul balls.
JF: Did you attend basketball games when you were a student?
MM: I always lived on campus so I didn't miss many games as a student. I loved coming over. In fact, that was the era that I saw David Robinson play and if I'm not mistaken he had a quiet thirty-five. He was the man.
JF: Do you have a favorite player on the current team?
MM: I am thrilled by the young players that we have coming along. I was really excited about Terry Tarpey last year and fired up about Omar Prewitt and Daniel Dixon this year. But I'm also really impressed with how Sean Sheldon has developed and come along this year. I'm excited about our young players. We're much more athletic and got some great shooters and I'm excited about our recruiting and how they're complimenting our older, more experienced players too. Considering Omar's gonna be the conference rookie of the year, I would say everybody would have him near the top. Kyle [Gaillard] is so long, he can create some serious matchup problems for people. If we can get his three point shot going, because he can also blow by you and stuff it down your throat. And I'm excited to see Julian [Boatner] doing as well this year because that guy can shoot. I think we got a good, solid team.
JF: What do you think about Coach Shaver?
MM: I think Coach Shaver is just a class act. My wife worked in athletics there for about ten years and hated to leave but just went over to the general counsel's office. And so I got to know some of the other coaches in the league and invariable when I'd get to spend time with other coaches in the league just off by ourselves, they speak so highly of his basketball intellect. He really knows the  game. He knows how to coach and you top it all off with him just being a class act and a super good guy. I'm thrilled that he's our coach. I'm also from Farmville, Virginia so I knew Tony a little bit, didn't know him much, but I knew about his coaching at Hampden-Sydney. I knew about his career because my buddy is actually the radio guy for Hampden-Sydney. So I followed Hampden-Sydney basketball for years with Tony and we always thought, 'Boy, what and addition he'd be for us.' I just think he's a super man and a super coach in that order.
JF: What do you think of the team's chances in conference play and then in the tournament in Baltimore?
MM: It's really good. Look how closely we played Delaware the first time. We struggled in the second half. Now they got away from us because they jumped out to a huge lead on us this time but you hear Tony talk about it all the time and it's defense, defense, defense. This team can shoot the lights out but our team's ability to weather a storm of poor shooting by turning it up a notch on the defensive end and holding serve on the defensive end is really what I think will take us to the next level. Sometimes it seems like we stop hitting shots and at the same time give up a bunch of buckets and that's where we give up the big runs. But we're such a good shooting team. Being able to weather the storm when things aren't really going in that well, I think is crucial. So in the tournament, if we're hot, we're gonna be on fire. But you gotta be able to, for that period of five to ten minutes that you're not hot, stay tight, stay in the game, play good solid defense so that it doesn't get away from us.
JF: It said on your campaign website that you were the chairman of the College's Athletic Educational Foundation. What's that and what was your role like?
MM: It's the same as the Tribe Club. I've been involved in it for 25 years probably, I was the chairman for 3 years. What we do is raise money for athletic scholarships to supplement the athletics program.
JF: Finally, now that you've been sworn in as a duly elected representative, do you think you'll have any more sway with the officials when you sit courtside?
MM: I try to be fairly positive with them down there. I"m afraid now that if they find out that I'm a politician, the calls might go against me even more.