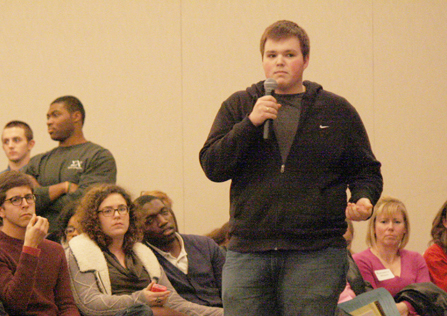 Members of the College of William and Mary community participated in a town hall forum Tuesday evening focusing on an email written by a member of the Zeta Upsilon chapter of the Sigma Chi fraternity at the College.
Attendees of the standing-room-only event, held in the Sadler Center's Tidewater Rooms, also discussed rape culture and the College community in relation to the email, which circulated on various websites last week.
About 300 people — including College President Taylor Reveley and Vice President for Student Affairs Ginger Ambler '88 M.Ed. '06 — attended the forum in Tidewater. An estimated 400 more watched a live stream of the event from the Sadler Center's Commonwealth Auditorium, according to William and Mary News.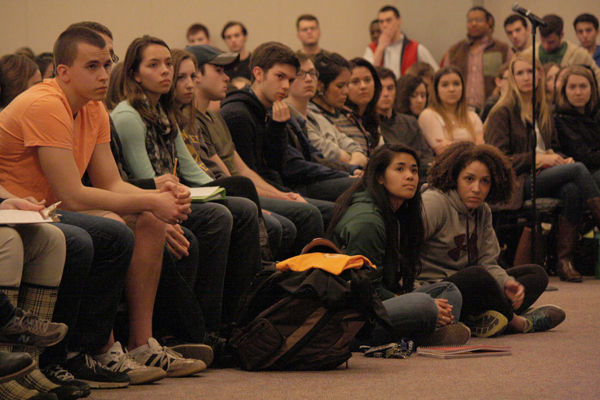 While expressing her disappointment with the content of the email, Ambler referred to the situation as a "teachable moment" for the College.
"In recognizing we have fallen short, how do we step into the messiness of this moment to begin moving our community closer to the community we can be?" Ambler said.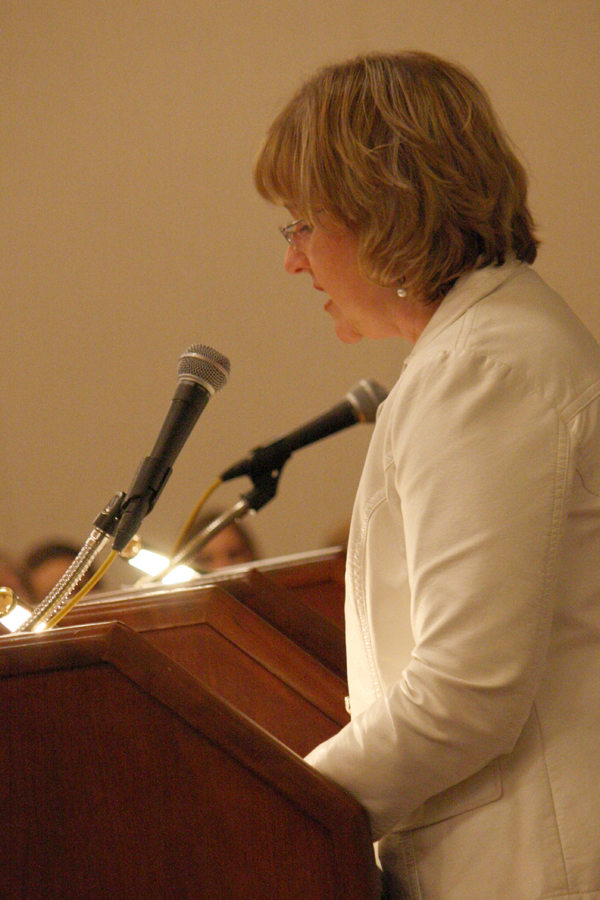 Following Ambler's opening remarks, the forum switched into a town hall format, in which audience members were given the opportunity to share their thoughts from two microphones placed in the aisles. Those watching from Commonwealth submitted index cards with comments, some of which were then read by moderators Vernon Hurte, senior associate dean of students and director of the Center for Student Diversity, and University Professor for Teaching Excellence Susan Grover.
Comments on the topic ranged from articulating shock at the subject of the email to condemning what some perceived as a passive reaction to its content. Others suggested ways for the College to continue to address the situation. One idea Grover read from an index card was to make a gender studies class required for each student at the College.
Inter-Fraternity Council President Alex Greenspan '15 spoke about fraternity presidents' plans to work toward a resolution to educate community members on the importance of the issues the email brought up.
"Words lead to beliefs, beliefs lead to actions, and if we can't stop the words and beliefs, then how can we stop the actions?" Greenspan said. "We like to say that William and Mary is a relatively safe community, but I'd like us to ask ourselves, relative to what? Relative to other college campuses, perhaps? Relative to the standards to which we would want to hold ourselves? Not if this email's out, and not if a single person doesn't feel safe on this campus."
Other ideas included requiring incoming students to read written rules on what constitutes sexual consent.
Many audience members voiced opinions focusing on the culture beyond the thoughts expressed in the email.
"When I read that email, I thought to myself that this is very reflective of rape culture, very simply and plain," Professor of history and Africana studies Robert Vinson said. "The person who wrote that is very comfortable writing that and it's probably not the first time that person expressed those ideas."
Vinson challenged the men in the room to commit to eliminating the type of language found in the email.
"We underestimate our personal power and our influence in our circles of influence. … If we cut that and say that's not okay, we take that first step in disconnecting from rape culture," Vinson said.
In addition to describing the email as propagating rape culture, some students referred to the concerns it raised as human issues, rather than as only specific to women.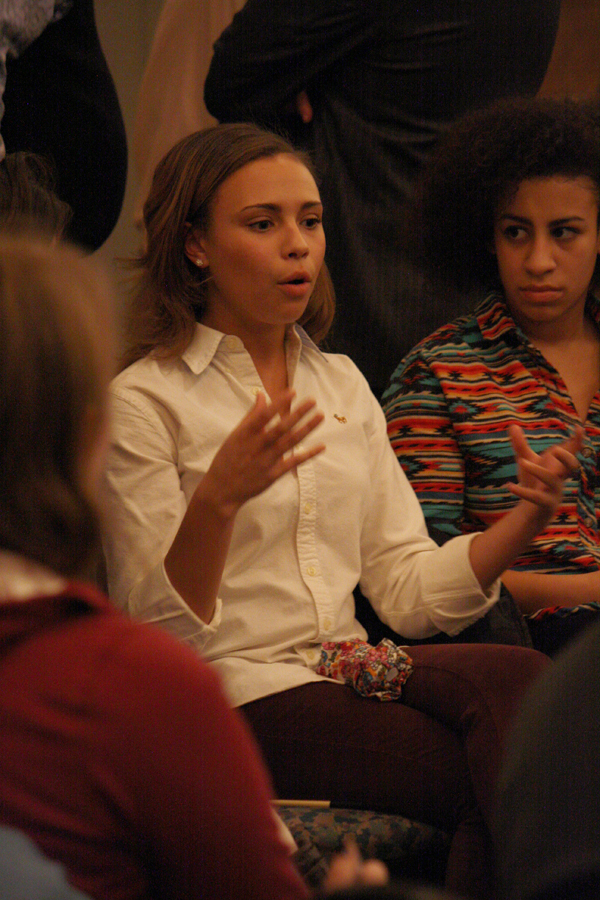 Others described the email's impact on a more personal level. A student who recently brought charges against a fellow student for sexual assault spoke about her views on its content.
"The point is that this isn't just an incident — these aren't incidents," she said. "Yes, we're great students and this is a great community and we like to think that we're better than this, that we don't have a culture of this, but we do."
Following the open-floor format of the town hall meeting, audience members broke up into smaller groups, led by facilitators, to further discuss their thoughts on the email.
After the small group sessions, the group reconvened to share final thoughts.
"This gathering is about the higher discussion, being challenged to think and reflect on our community at a higher level, thinking about the concept of respect within the William and Mary community," Hurte said. "We love this community. We are here because we love this community. The reality is that one of the responsibilities of being a member of any community is that each member … has a responsibility to find a way or ways to positively impact that community."