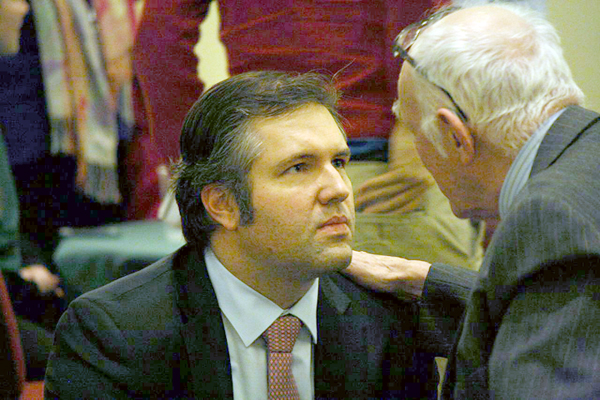 The Weingartner Digital Citizenship Forum took place at the Mason School of Business Tuesday evening. Panelists at the forum discussed the effects of the Internet on democracy and announced the winners of the Digital Citizenship Challenge.
An initiative, called dotDemocracy, comprised of eight students at the College of William and Mary organized the event with sponsorships from the Roy C. Charles Center for Academic Excellence and the Weingartner Global Initiative.
The organization was founded last spring when Chancellor professor of government Clay Clemens taught a seminar on the impact of the Internet and social media on democracy. Students from Clemens' course formed an initiative to make the Internet more effective to strengthen democracy.
"We're trying to get people to think about how we can harness the power we have to positively affect democratic citizenship," Student Conference Coordinator Greg Collier '16 said.
Six panelists spoke at the forum on the issue of digital citizenship. Among them was Nicco Mele '99, a faculty member at the John F. Kennedy School of Government at Harvard University, who invited the other panelists and guided the discussion.
"I think technology is pushing power out of institutions to individuals — to all of you — at an intense and exciting rate that has real consequences for where we're headed," Mele said. "Our challenge is to get you to think about what we need to do in the future."
Following the discussion, panelists showcased and critiqued works of the six finalists of the Digital Citizenship Challenge. Students from over 43 states participated in the challenge after dotDemocracy launched it in November. Jasmine Pillarisetti from Duluth High School and Michael Payne '15 from the College were runners-up, and Sammer Zeglam from the University of Texas at Arlington received $2,000 as the winner of the challenge.
Werner Weingartner, who funded the initiative, expressed his interest in spreading the cause of digital citizenship, starting with students at the College.
"If we could unify students here at [the College] to give attention to global problems, I also want them to reach out to other domestic colleges and try and unify students," Weingartner said.
Clemens, an advisor in dotDemocracy, stated that the initiative will work towards that goal.
"We took a small step in that direction with this year's project," Clemens said. "If we can foster interaction among students to spread a stronger democracy in webpage, that will at least be part of [the vision]."