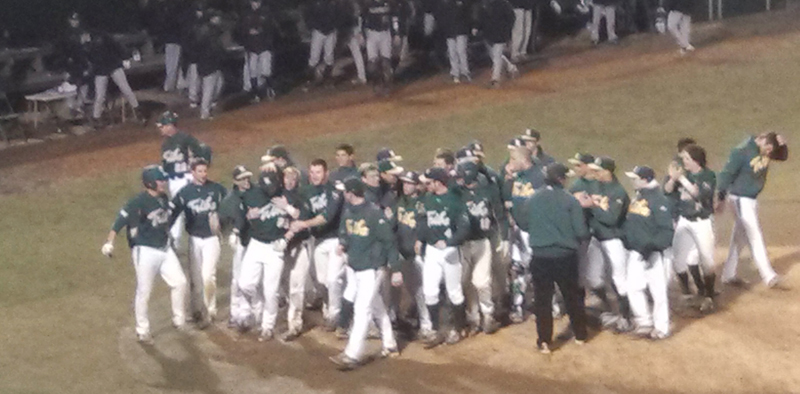 He needed just one pitch, one swing and one trot around the bases to clear William and Mary's bench. Mobbed at the plate, junior first baseman Michael Katz disappeared into a crowd of green and white.
Katz's walk-off homerun sent the College (2-1) past Army (7-6) Sunday afternoon at Plumeri Park. Following a 21-3 win Friday and a 4-2 loss in the first game of Sunday's doubleheader, the second game featured both the season's first series win and first dramatic finish.
Video courtesy Dean Barker, Ross Barker (Warhill High '17)
The towering shot to centerfield brought home junior right outfielder Nick Thompson to tie the contest. As Katz rounded third, an expectant Tribe bench welcomed him.
"We needed a big hit today. We hadn't had one and obviously had a real big one at the end to win the series and squeeze out a game today," first-year head coach Brian Murphy said. "As far as what it means — the big thing you try to do in college baseball is win weekend series. It gets us off on the right note as far as winning a weekend and, obviously, a really big hit."
The Tribe began the weekend by thumping the Black Knights 21-3 Friday night. Junior southpaw Jason Inghram earned the opening-day start and didn't let the opportunity go to waste. Inghram (1-0) allowed five hits and a run in six innings of work, including eight strikeouts in the win.
Offensively, each Tribe starter registered a hit with the exception of Inghram. Senior second baseman Ryan Lindemuth led with a game-high four hits, while fellow senior Willie Shaw scored a game-high four runs while enjoying time at first base. All told, the Tribe recorded 14 RBIs on 20 hits.
"I thought we played a pretty complete game. We got a good start from Jason, and, obviously, one through nine we were pretty good offensively," Murphy said. "We were able to open it up in the middle innings, and it was a good start to the weekend."
A heavy rain Saturday drenched Plumeri Park's field and forced a doubleheader Sunday.
Right-handed senior pitcher John Sheehan took the bump in game one, lasting 6.2 innings while giving up four runs on three hits. At the plate, the bats that forced Army to use six pitchers Friday fell largely silent. Senior designated hitter Kevin Nutter, returning from an injury-plagued campaign a season ago, added two hits and two runs to the Tribe's limited production.
"Sometimes, early in the season, with a doubleheader and being at the field early and letting time get away, that's kind of on us. We need to do a better job — as leadership — of getting everyone ready," Katz said. "Other than that, I think we definitely learned from our mistake. Luckily we got two wins out of it and didn't end up losing the series because of it."
With the series tied a game apiece, the College entered Sunday's series finale with sophomore right-hander Mitchell Aker pitching. Aker allowed six runs on seven hits in the first four frames, prompting Murphy to call in freshman right-hander Nick Brown.
In relief, Brown gave up three hits but no runs. Murphy was pleased with Brown and, by extension, the work of his bullpen.
"We were lucky enough Friday — we were able to use just a couple guys. Jason gave us six innings to start the game," Murphy said. "We had a pretty fresh pen. Obviously, doubleheaders can be fairly taxing on the guys. It's more a mental fatigue issue than a physical fatigue issue. We had a little left for the end today, anyway."
A three-run sixth inning made the finale a one-run game. With the bases loaded and no outs, the bottom of the eighth inning appeared to have all the makings of a come-from-behind win. Instead, the Tribe stranded its runners and took a more unconventional route to the victory.
Despite the exciting finish, Katz knows the College must improve to contend with conference opponents. A walk-off win, however, helps build momentum.
"First game, obviously, we put up a bunch of runs. Pretty much for 12, 15 innings there we were just flat the entire Sunday. Finally, we started waking up a little bit," Katz said. "To salvage a series win, after playing pretty much sub-par baseball most of the day, is pretty huge for us."
The Tribe faces in-state foe Virginia Tuesday. First pitch is scheduled for 3 p.m.