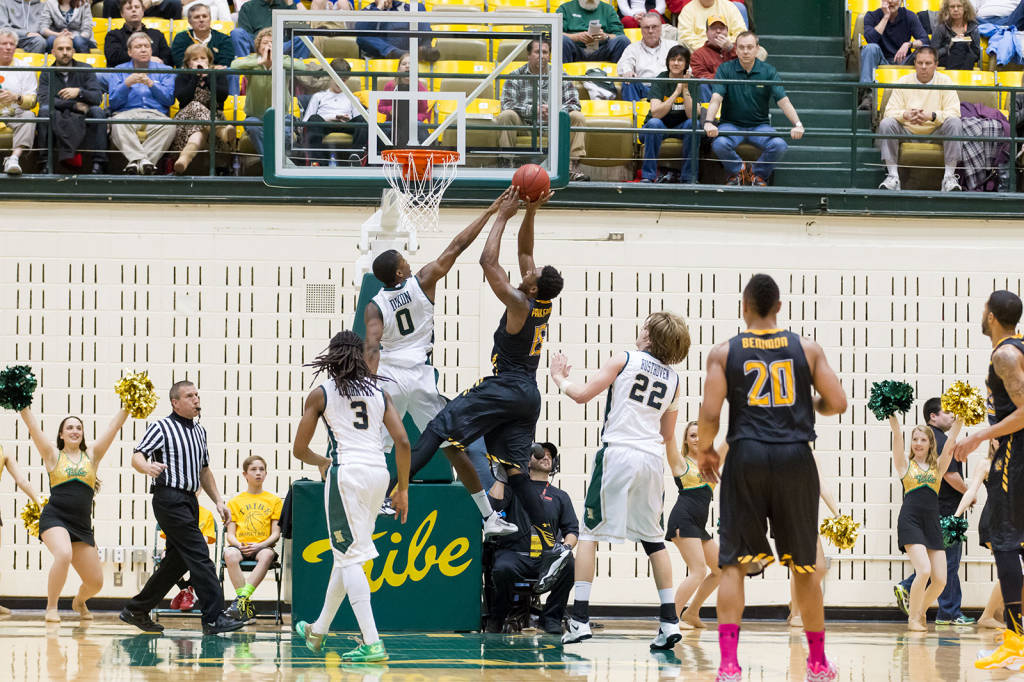 Add Towson to the scant list of teams which outplayed William and Mary at Kaplan Arena this season. Excepting scattered Tribe scoring sprees, the Tigers controlled the pace of the game on the College's home court Saturday en route to an 85-70 victory.
Simply put, junior guard Marcus Thornton, the Colonial Athletic Association's leading scorer, didn't score a single point until he hit a pair of free throws with 9 minutes, 42 seconds remaining in the second half. Meanwhile Towson forward Jerrelle Benimon, reigning CAA Player of the Year, posted 18 second-half points and led all players in rebounds and assists.
Overall, Thornton scored six points on 1 of 14 shooting; this was only the second of his last 54 games in which he failed to reach the double digits. Senior guard Brandon Britt led the Tribe with 16 points. According to head coach Tony Shaver, the difference in the game was his team's over-reliance on shooting success.
"This team lets our ability to make shots drive us," Shaver said. "We're better defensively when we're making shots. We have got to learn to defend first. Defend with energy, defend with intensity every day."
Senior forward Kyle Gaillard gamely defended Benimon for most of the game within the Tribe's man-to-man defense. Gaillard held Benimon to three points in the first frame, but Gaillard also picked up three fouls, which kept him off the court for long stretches.
With Gaillard on the bench, Shaver tried to fill the vacuum he left on defense by switching to a 2-3 scheme which proved to be an easy picking for the Tigers' broad bodies and comparative length. Towson scored 22 points in the paint in the first half.
"Benimon took the game over," Shaver said. "We honestly couldn't stop him. He's a very physical player as you can see, and if they're going to let him put his shoulder down and split people and plow through people, it's tough to defend."
The Tribe headed into halftime with a 41-34 deficit — a relatively meager line considering Thornton missed all five of his shots. A wide-open Gaillard three-pointer two minutes into the half preceded another three from senior guard Julian Boatner, tying the game.
The stage was set. The student section was in hysterics. It seemed that all the Tribe needed was for Thornton to have one of his customary second half offensive explosions. It never came.
"He definitely didn't shoot well, but he's a great player," Britt said. "We were still in the game; he just didn't play well."
Instead, Benimon became more assertive on offense, confounding Tribe defenders with a lethal combination of size, strength and agility. In an effort to contain Towson's marquee player, the Tribe racked up personal fouls, leading to sophomore guard Terry Tarpey and Gaillard to foul out of the contest.
Benimon played all 40 minutes, but was never more crucial for his team than in the final 10.
"He's a great player," senior center Tim Rustoven said. "He's a tough person to guard. I think Kyle did a good job on him; it was definitely a tough assignment. I think if his buckets were because most of our guys weren't in the lane. We weren't helping Kyle enough."
The Tribe found its shooting stroke during the first 10 minutes of the second half, but fell cold again in the clutch and scored just 12 points through the remainder of the game. Thornton shot five three-pointers in the final 11 minutes, making only one and even missing a wide-open layup that clanged off the rim. All the while, Towson guard Mike Burwell, who played Thornton man-to-man, led all scorers with 23 points, including five three-pointers.
The Tribe staggered to an 85-70 defeat on its home court. Saturday's loss, coming after three straight road wins, saw any momentum the Tribe gained from the streak stripped away by Benimon and the Tigers. Thornton and the Tribe will have another chance to prove themselves against Towson March 1 in its final game before the CAA tournament.
The College returns to the court today against North Carolina-Wilmington, a team that defeated Towson 66-53 last week. Tipoff is set for 7 p.m. at Kaplan Arena.