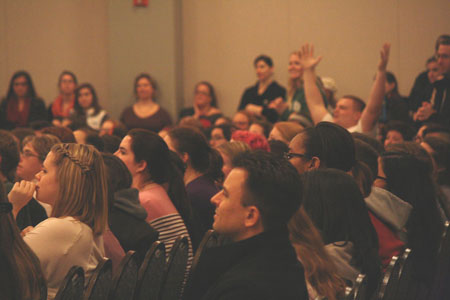 Students and faculty gathered to address rape culture and its impact on the College of William and Mary's climate during a teach-in held Saturday. The teach-in took place following the circulation of an email written by a member of the Zeta Upsilon Chapter of the Sigma Chi fraternity.
Teach-ins are events in which community members come together to share knowledge about certain subjects. The College last held a teach-in when former College President Gene Nichol resigned in 2008.
The Sigma Chi email teach-in, titled "Think Outside 'The Box,'" addressed an array of issues including rape culture, bystander intervention, the International Violence Against Women Act, empowering middle school girls and anti-LGBTQ violence. The event incorporated various talks held in the Sadler Center, Tucker Theatre and Blow Memorial Hall.
The concept for the teach-in came from an email associate professor of English and gender, sexuality and women's studies Jennifer Putzi wrote a little over a week ago to a group of fellow professors, pushing for further discussion on the issues the Sigma Chi email had raised.
From there, a mass email was sent out, urging different faculty members to come together around this cause. Sarah Schuster '15 helped Putzi contact various campus organizations.
"This email affects all of us," Schuster said. "It's very hard to rally people around something that's invisible to them. [The email] made it very visible. This is a great moment to say this is representative of something big."
Saturday's cold and rainy weather did not deter participants from sharing their voices. Some sessions held approximately 80 people, and about 40 people attended all 10 discussions. College President Taylor Reveley, Provost Michael Halleran and Vice President for Student Affairs Ginger Ambler '88 M.Ed. '06 were in attendance, alongside faculty members from a range of departments. Members of Sigma Chi and the Inter-Fraternity Council also attended.
"I think it [was] a huge success," associate professor of history and gender, sexuality and women's studies Leisa Meyer said. "The point is to really attack rape culture and to find a way that this community can be inclusive and safe for everyone."
Other organizations were also represented at the teach-in. Representatives from Amnesty International, Health Outreach Peer Educators, the Center for Student Diversity and a local middle school all led talks. They spoke on a variety of topics, sharing strategies for eradicating rape culture and hate speech. Others stressed how crucial it is to keep forums like these going.
"Students here have so much to offer. That's what needs to inspire the community," Williamsburg-James City County middle school teacher Avory Harman-Link said.
Director of the gender, sexuality and women's studies program Gul Ozyegin said events like this create forums that allow an exchange of viewpoints.
"What's happening is the complete dehumanization of women, reducing her to 'the box,'" Ozyegin said. "[In] these forums, [we] had the voices of different perspectives. [We] see how the problem is very complicated. The word gets out."