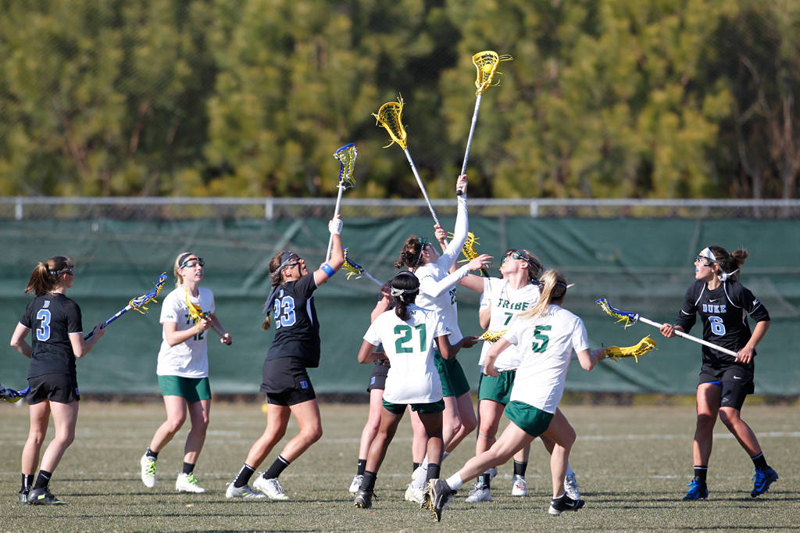 William and Mary played its home opener Sunday against No. 5 Duke. Despite an 8-11 loss, the Tribe was competitive offensively and defensively, outshooting Duke 14-13 in the first period and leading in saves 9-7.
Senior midfielder Jenna Dougherty scored the first goal less than three minutes into the game. Only a minute later Duke struck back hard, knocking in two goals within a minute of each other. Duke slotted two more goals within the first eight minutes of the game, putting them at an early 4-1 lead.
Senior midfielder Taelor Salmon scored from behind the crease soon after, and the College continued to score. However, Duke countered and the period ended with a 5-7 deficit for the College.
The Tribe led in draw controls 9-12, but it also collected more turnovers, 11-7.
"I thought we had a lot of really great cross turnovers today but then we just have to finish," head coach Hillary Fratzke said. "We did awesome on the draw … but then from the draw you got to take care of the ball."
"We would have a silly turnover and they were able to score off that, so I think that's where a lot of our faults came [from]… just those quick slip ups where they were able to capitalize," Salmon said.
Duke totaled 19 ground balls compared to the Tribe's 10 and took those opportunities, totaling 12 shots and four goals in the second period.
"I think Duke is an awesome team," Fratzke said. "I think they did a really great job of capitalizing on our errors and that's something that we definitely talked about as a team … not just accepting that an error was made but fighting back. But in general, first time out against an amazing team, I'm pretty proud of them. I'm proud of the fact that they stuck with it till one second left in the game."
Senior Goalkeeper Colleen Nofi contributed to the College's defensive front, stopping four shots toward the end of the second period.
"I think Colleen came up with some really crucial saves, and I think that that says a lot for her mentality," Fratzke said. "There were a few times when it was just her and an attacker and she came up with the big stuff right on the crease, and that's pretty incredible to see."
The Tribe maintained a balanced offensive front throughout the game. A total of six players scored goals.
"Every single person should be a threat on the field and I thought we did an excellent job doing that today," Fratzke said. "I think we could definitely stand to put our shots away a little bit more … but I really believe that some of those shots that we had, four or five of those, if we could put those away, that's the difference between winning and losing."
"I'm actually very proud of the way we played," Salmon said. "I mean, we did make some mistakes — and unfortunately Duke was able to capitalize on those mistakes — but … for a season opener, for a first game and a new coach all coming together with a bunch of freshman and learning each others' skills, I think that we played well,"
This game debuted Fratzke, who previously worked as an assistant coach at Northwestern, as the new head coach.
The Tribe will play Louisville this Sunday at Albert Daley Field.