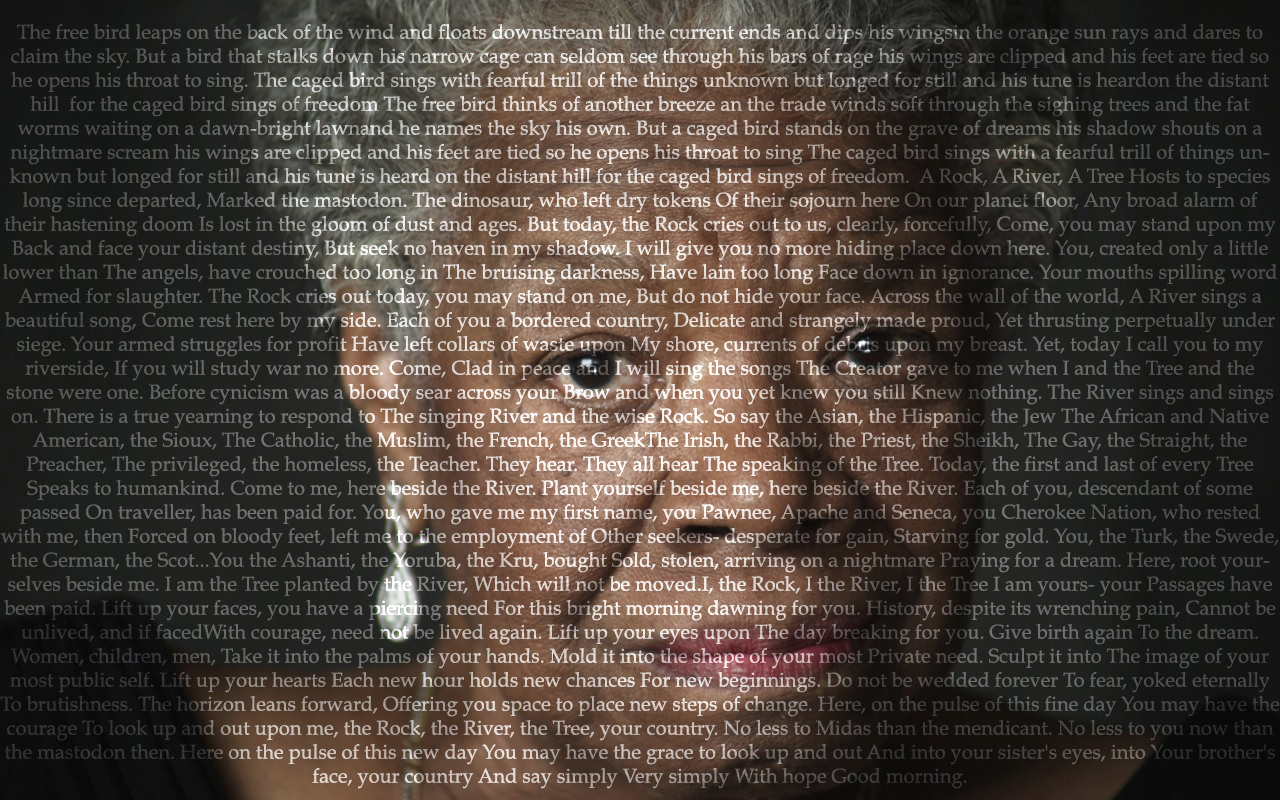 Maya Angelou will speak at the College of William and Mary Tues., April 15 as keynote to the Student Assembly diversity initiative I Am W&M Week.
Angelou, 85, is noted for her poetry, essay collection, and autobiographies. She published her first autobiography — "I Know Why the Caged Bird Sings" — to international acclaim in 1969. Angelou was awarded the Presidential Medal of Arts in 2000 and has received three Grammy Awards. In 1993, she recited her poem "On the Pulse of Morning" at former President Bill Clinton's inauguration. Angelou also campaigned for Senator Hillary Clinton in 2008.
"As we dedicate ourselves to celebrating the many voices and faces that make up our campus community, I can't imagine a more fitting speaker than Maya Angelou," Ginger Ambler '88, M. Ed. '06 said in an email. "Award-winning poet, author, scholar, and civil rights advocate, Ms. Angelou has dedicated her life to understanding, lifting up, and celebrating the diversity that defines our human experience."
Entitled "A Conversation with Maya Angelou," Angelou will speak at 7:30 p.m. at Kaplan Arena April 15 about her life and writing, according to the SA's Secretary of Diversity Initiatives Dylan Frendt '14.
Frendt began organizing Angelou's visit to the College last fall with the Department of Diversity, who suggested Angelou as a speaker for I AM W&M week.
"Her life story is so compelling," Frendt said. "Her writing is compelling. Her views on life are compelling. Her childhood and her life in general — not the narrative of what she's written — but just her existence is so compelling and to me is the definition of diversity because it deals with racial diversity, it deals with overcoming adversity, it deals with recognizing the diversity in others and celebrating life and empowering people — not just because of the color of their skin but the things inside of them that are unique and make them struggle. Her message is a message of unity and uniting people and to me, that's what diversity is about."
The Student Assembly, AMP, Student Leadership Development Office, the Center for Student Diversity, the Office of University Development and the President's Office contributed financially to the event. According to University News Manager Erin Zagursky, the event was made possible, in part, by the Janet and Peter Atwater Lecture Endowment.
"For me, one of the things I find most impressive about her and her story is really just how open and honest she is with her past [and] with her opinions [which] she conveys in such a respectful but open and sincere manner," SA President Chase Koontz '14 said.
Frendt said the potential ticketing logistics would set aside 2,500 to 3,000 the seats for students through a free lottery system. The rest of the seats would sell for $10 on the floor and $5 above for students and staff and $20 on the floor and $10 above for the general public. The ticketing information has yet to be finalized.
"Constantly on this campus — whether it's on individual levels or on broader community levels — we have dialogue and a lot of times it can be on difficult issues, such as the Town Hall… I think we can learn a lot not only from her message but by the way with which she delivers her opinions and her thoughts and her story," Koontz said.
Other I AM W&M Week events include a pride festival, world fair, and dance event.
Ticketing update:
University Relations' Director of News and Media Suzanne Seurattan confirmed that event tickets will be free to students and will become available March 19 at 9 a.m. and are limited to one ticket per student with an ID. Ticketing for faculty and staff members and members of the public open March 21 at 9 a.m. and are limited to four tickets per person. Faculty and staff tickets will be $10 with a discount code that will be advertised in the W&M Digest. Public tickets will be $15. Tickets can be purchased through the Tribe Ticket Office at William and Mary Hall. Online ticket sale information will be listed at www.wm.edu/amp.