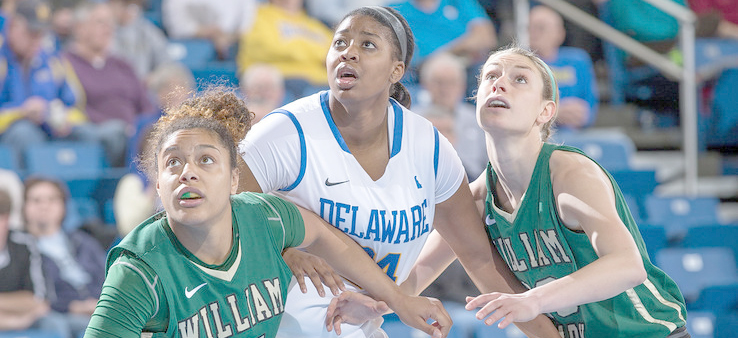 William and Mary (7-18, 4-9 CAA) won its first road game of 2014 Sunday at Delaware (9-5, 17-8 CAA), the second-place team in the Colonial Athletic Association conference, 68-64.
"The fact that it was against Delaware, who is ranked second in our conference, I think, shows that we can play anyone in our conference," freshman guard Marlena Tremba said to Tribe Athletics. "And I think it shows great toughness and that we're starting to turn the corner that coach always talks about."
Tremba was named CAA Rookie of the Week, marking the third time she received the award this season. She led the team with 21 points. Junior point guard Kyla Kerstetter followed with 15 points in the win over the Blue Hens.
"I thought my teammates set me up really well," Tremba said to Tribe Athletics.  "Kaitlyn [Mathieu] hit me with a great pass at the end for my last three, and I thought we ran the sets great and I was just getting good open looks. … The crowd was really loud, especially during my last two free throws, so I was a little nervous but I stuck to my form."
Senior forward Kaitlyn Mathieu scored seven points and led two charges against Delaware.
"We've been missing those six plays down the stretch that I call 'winning plays,' and Kaitlyn Mathieu took two charges that were really game changers. … So as much as we get credit for putting the ball in the basket, I think Kaitlyn's two charges were huge in this game," head coach Ed Swanson said to Tribe Athletics.
While Delaware outrebounded the Tribe 39-27, they gave up 25 turnovers as the Tribe managed 16 steals. Junior guard Jazmen Boone made five of those steals and totaled four assists.
"We're really playing four guards and one post player," Swanson said to Tribe Athletics. "So we have to get the game away from the basket, and although we get outrebounded, the turnover margin is big for us and, obviously, [the] steals. The kids are really starting to look for chances and look for opportunities; we just played a tremendous defensive game."
Delaware center Kelsey Buchanan was a major threat to the Tribe defense, scoring 16 points before halftime and 24 total. The Tribe answered by crowding the Blue Hens defensively.
"We were the aggressors," Swanson said to Tribe Athletics. "We were the first ones to the basketball and I thought when Kelsey Buchanan got that big rebound down the stretch we crowded her a little bit and forced her into that stepping out of bound situation."
The Tribe will face Northeastern Thursday at Kaplan Arena at 7 p.m.