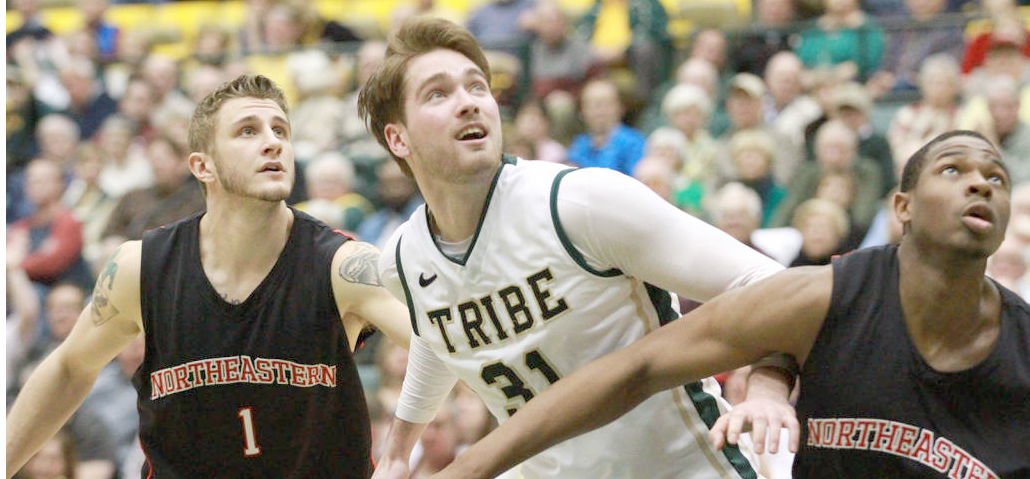 Playing its fourth game in seven days, William and Mary capped off a turbulent stretch Saturday afternoon by defeating Northeastern 81-67 at Kaplan Arena.
The team's seniors were honored for their dedication to the program before the game started, and they put on quite a display once the whistle blew.
Senior center Tim Rusthoven finished with a team-high five assists along with 12 points and five rebounds. Senior guard Brandon Britt added 11 points, while senior guard Julian Boatner had eight points. Senior forward Kyle Gaillard had an uncharacteristically off day from the field, but he still chipped in five rebounds and a steal.
"[It was a] really, really nice win," head coach Tony Shaver said. "I'm pleased with a lot of things. I'm obviously pleased for this senior class to have a good win on Senior Night and [to] have them play so well."
Junior guard Marcus Thornton's revival was key to the Tribe's victory, as Thornton poured in 25 points on 9 of 14 shooting. The performance came one game after Thornton scored just nine points in a lopsided loss at Charleston.
"I think I was just more aggressive and tried not to think too much because I think that takes a toll on my game," Thornton said. "Never losing my confidence but just playing more freely. Trusting our offense, I think, helped me out a lot today."
Following a common theme this season, the Tribe amassed nearly twice as many assists as its opponent. The Tribe's stellar ball movement guided it to 20 assists, as compared to Northeastern's 11.
"We really pride ourselves on sharing the ball, being an unselfish team," Thornton said. "We really like to make defenses work. Being able to share the ball and have multiple guys contribute just makes it easier for us to get wins, so it's great to be able to do that."
Britt set the tone early, hitting a three-pointer on the Tribe's first possession of the game. Thornton followed up shortly thereafter with three-pointers on two straight possessions to stretch the Tribe's lead to 10-3.
The Tribe went into halftime with a 33-24 advantage, buoyed by additional three-pointers from Boatner and freshman guard Daniel Dixon. A far cry from its 12.5 percent three-point shooting at Charleston last Wednesday, the Tribe would go on to shoot 43.5 percent from beyond the arc against the Huskies.
After the Tribe sustained an 8-2 run to start the second half, Northeastern gradually climbed back to within five points of the lead with just under 10 minutes remaining. Northeastern guard T.J. Williams nailed a three, part of his team-leading 16 points, to punctuate the Huskies' comeback bid.
The surge didn't last. Thornton matched Williams with a three of his own on the subsequent Tribe possession, and Rusthoven impressed with a nice jump-hook seconds later to extend the lead back to double digits.
The Tribe maintained its double-digit advantage for the rest of the period. After the seconds ticked away and the Tribe walked off with an 81-67 Senior Day victory, several of the team's veterans were mobbed by excited fans.
The Tribe will play its penultimate regular season game at home tomorrow night against Hofstra. The Tribe's previous matchup with the Pride ended in a 77-60 loss. Tip-off is set for 7 p.m.