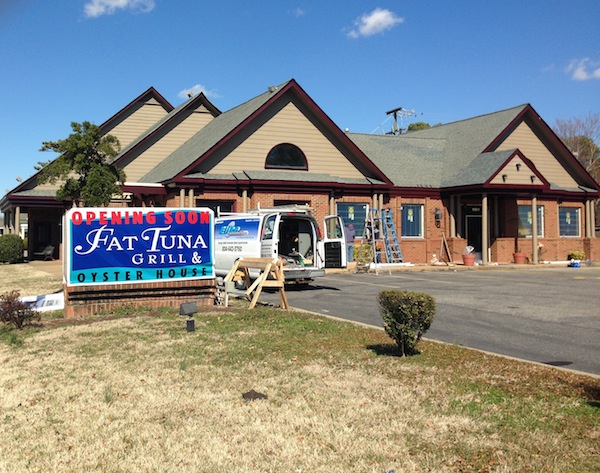 Cooking high quality food the natural way is important to Sal's By Victor owner Victor Minichiello. That is why his restaurant kitchen is filled with fresh vegetables and healthy ingredients, and why regular patrons can expect the same standard at his new restaurant, the Fat Tuna.
Not to be confused with the Fat Canary, a restaurant on Duke of Gloucester Street, the Fat Tuna is a new seafood establishment opening in early April on Richmond Road where the Legends Bistro used to be. Co-owners Minichiello and Ken Brown, who is also the chef, began plans for the Fat Tuna about seven months ago, when Minichiello approached Brown about going into business together.
Minichiello and Brown, who have known each other for over 20 years, envision a restaurant that is not only financially successful but also environmentally sustainable. They are looking into an eco-friendly method of waste disposal and are installing insulated windows for the sake of energy efficiency.
They also plan to keep purchases local to ensure freshness: produce will come from nearby farms, the seafood itself will come from the Chesapeake Bay and other meat they do use is butchered locally.
Minichiello has always been mindful of the health and environmental consequences of the food industry, and insists on quality over quantity.
"Anybody can make the food more spicy or more flavorful, but what kind of price [is there] to pay afterwards?" Minichiello said.
He and Brown will also be introducing a Neapolitan-style pizzeria next door to the Fat Tuna, in collaboration with Billy Fallen, baker and founder of Billy Bread, the bakery that supplies bread for Sal's and the two new restaurants. The pizzeria — whose name has yet to be decided — will have a wood-fire brick oven. When it opens, Billy Bread will also expand its operations.
"Right now we're just wholesale, so once the building is completed and the restaurant is open we'll have a bakery and coffee shop and everything in that space as well, probably in about two months or so," Fallen said.
While the snow has delayed construction and deliveries for the Fat Tuna, once the restaurant opens it will remain so year-round. The owners hope that not having an "off-season" will appeal to a larger clientele and that the casual environment will be a draw for customers.
"We want it to be comfortable," Brown said. "We don't want it to be overpowering. We want people to be able to relax, to enjoy it."