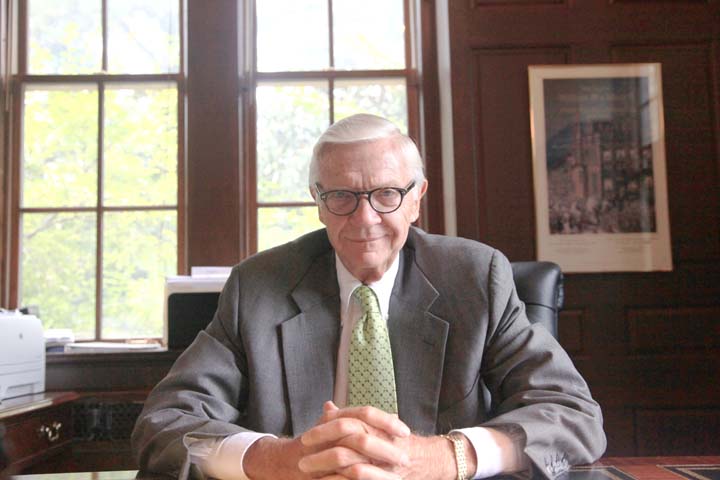 In the time since, a lot of people have asked how it happened. How we made it work. What we ate. What he talked about. In all honesty, the entire experience is still a blur. But, in this column, I will do my best to truthfully record the events that led up to that fated evening when College of William and Mary President Taylor Reveley sat at the Kappa Delta dinner table.
Sometimes on a Wednesday, one feels particularly bold. Maybe it's the "hump day" ambiguity; maybe it's the colonial wind. On this particular Wednesday, upon seeing Reveley on ancient campus, I asked him if he would be interested in coming to the Kappa Delta sorority house for dinner.
"I would be most honored," he replied.
After some email exchanges with his executive assistant, we had a date locked down. Tuesday, Feb. 18.  Six days. Help.
Only seven of us could fit around the table. But what would we make? Most of us were only accustomed to making mac and cheese. What dishes would we use? What would we wear?
The weekend before the dinner we took a trip to Trader Joe's. We found plates and forks that sort of matched and cleaned the pen marks off the dining room table. We felt ready.
That Tuesday afternoon as I ran home to help with the meal's preparation, I realized that I've rarely put so much forethought into an actual date.
Whatever, this dinner was going to be way more important than any awkward evening at DoG Street Pub.
Reveley walked through the door around 7 p.m., looking dapper in a black suit with a coral tie along with his signature horn-rimmed specs and dry humor. He remarked that he had never been to most of the houses in Sorority Court.
As much preparation as we put into the evening, the meal felt like eight old friends sitting around a round table, sharing good food and trading college stories.
At the beginning of his college years, a young Reveley traveled to Princeton University alone by train, arriving in New Jersey in the middle of the night. Upon walking into his freshman dorm, he saw that his room was not equipped with any furniture. Including a bed.
Reveley described his freshman living situation as "intimate," occupying a randomly assigned quad. The group did not hit it off. By his junior year, Reveley joined the social eating club known as the Quadrangle, where he found his closest friends.
By the time we moved onto the main course, Reveley began regaling us with stories of his travels.
On a safari in South Africa, he feared that wild beasts might consume him whole. So, Reveley struck a deal with the animals — he wouldn't eat them if they didn't eat him.
As we dished out the vanilla ice cream, the whole room felt alive with laughter. Reveley joked about how the new fraternity houses would likely be trashed within a year, whereas the sororities have kept their houses relatively pristine for decades.
We asked if he had been to many of these types of dinners before. He couldn't recall having been invited to a student house for an evening meal in recent years. A home-cooked meal was a nice change to the usual catered food and meals out.
He left an hour and 45 minutes later, and we laughed at how normal it felt.
Such a mystique surrounds Reveley on this campus. But really, he's just a nice guy who is really worth getting to know. Try to do so before you graduate.
Ariel Cohen is a Confusion Corner columnist and likes long walks on the beach, coral ties and  offering college presidents homecooked meals.