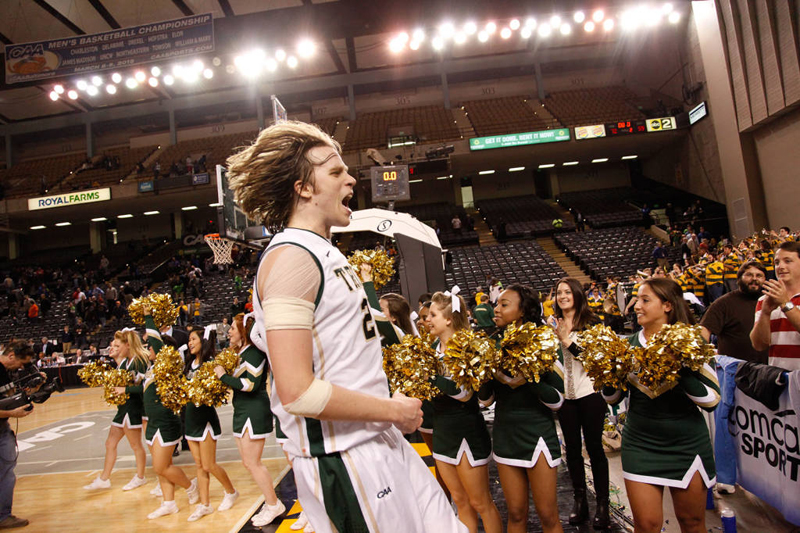 Remember William and Mary led by six at halftime during their first meeting with regular season champion and top-seeded Delaware. Know it is possible.
Remember that the No. 3 Tribe (20-11, 10-6 CAA) lost both of its games to Delaware in the regular season, including a home blowout Jan. 29. Know it will be difficult.
Two inspiring tournament wins guarantee a third game, but not necessarily a third win —especially against a team as talented as Delaware (24-9, 14-2 CAA). The Blue Hens set the torch to Northeastern in the second half of their 87-76 semifinal round win.
Delaware's path to the finals of the Colonial Athletic Association Tournament Championship seems an inevitable outgrowth of a dominating regular season. The Blue Hens finished 11-2 in conference, enough for weekend No. 1 seed.
Cracks, however, have surfaced in recent play. Hofstra and Northeastern each led the Blue Hens for long stretches in the first two rounds. After winning its first eight conference games, Delaware dropped two of its final five regular season games. That stretch included a 78-63 dismantling at the hands of Towson, the No. 2 seed that the College downed Sunday to advance to tonight's game.
Delaware boasts a collection of three of the conference's most lethal guards. Senior Devon Saddler is the leading scorer in program history and controlled the last matchup with the College, scoring 19 points and dishing out seven assists. Fellow senior Davon Usher scored 28 points in the win over the Tribe, and is an effective scorer.
Both Saddler and Usher were first team all-CAA selections, and are second and third in the conference in points per game, respectively. Junior Jarvis Threatt adds another punch to the Blue Hens attack, averaging 18 points per contest. When Delaware's backcourt is firing, they're hard to stop.
That the Blue Hens' guards will score is a given, but senior center Tim Rusthoven and junior forward Sean Sheldon will need to stifle Delaware's 6'9 senior Carl Baptiste offensively. The big man burned the Tribe for 23 points last go-round. Keeping Baptiste from easy baskets in the interior will force Delaware's guards to settle for jump shots, a much preferable option.
For the College, look for freshman guard Daniel Dixon to make a big impact. Dixon's on-ball defensive skills will be in high demand against Saddler, Usher or Threatt, and Dixon has quietly turned in a solid offensive performance in the tournament. Another reason to watch the freshman: Dixon's 15 points against the Blue Hens in Williamsburg marked his highest point total all season.
While junior guard Marcus Thornton and senior guard Brandon Britt will be asked to key the Tribe's offensive, look for the defense to frustrate Delaware. Head coach Tony Shaver has senior forward Kyle Gaillard, Sheldon and sophomore forward Terry Tarpey all excelling defensively.
As has been the case all season, the matchup pits the three-point shooting, rebound deficient (at times), transition focused College against a top-drawer opponent. Only this time, a conference championship and first-ever bid to the National Collegiate Athletic Association are on the line.
After two improbable wins, the Tribe faces its toughest test tonight. Fans in the Williamsburg area can view the game on NBCSN (Cox cable channel 34) or attend the William and Mary Student Assembly hosted watch party in the Commonwealth Auditorium.
@FlatHatSports will have live courtside coverage. Check back with Flathatnews.com for full analysis after the game.