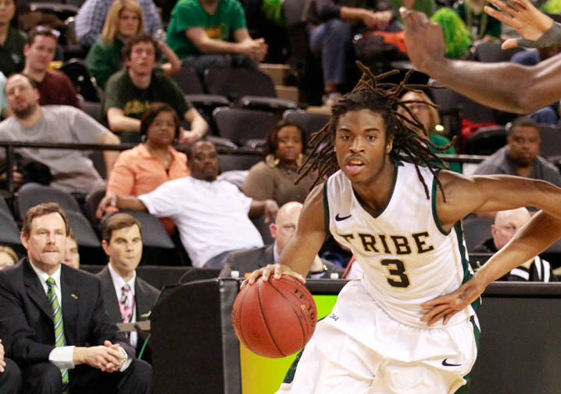 Receiving the ball just past mid-court with ten seconds left on the clock and a conference title on the line, junior guard Marcus Thornton dribbled to the top of the key, lost the ball momentarily before regaining control and spinning off his defender to set up an open mid-range jumper. As the ball left Thornton's hands, time stood still in expectation.
Then it rushed recklessly forward as the ball clanged off the front of the rim and No. 1 Delaware (25-9, 15-2 CAA) players exulted while their fans stormed the Baltimore Arena court. Like all of its games this tournament, the No. 3 Tribe's 75-74 loss in the Colonial Athletic Association championship game was nothing if not nerve-wracking.
"I thought I got a pretty good look," Thorton said. "Pull-up three that I thought was a great look; just missed it."
After surmounting a 12-point second-half deficit, the Tribe (20-12, 10-7 CAA) held a one-point lead with just 25 seconds left. Delaware forward Carl Baptiste, coming in at 6'9 and 260 pounds, received the ball just outside the paint and bullied his way past Thornton and sophomore forward Sean Sheldon for an emphatic score to give the Blue Hens the advantage. Thornton — lethal all game and finishing with 22 points — couldn't find an answer, missing his second jumper in the final 30 seconds.
"Obviously, a tough loss for our guys," head coach Tony Shaver said. "Great college basketball game, really couldn't be much prouder of our team."
The size and strength that Baptiste provided the Blue Hens was the crucial difference Monday night. Delaware's big man proved too much for either Sheldon or senior forward Tim Rusthoven to handle down-low. Baptiste led all scorers with 24 points on 9 of 11 shooting, most of which were uncontested baskets on post moves.
"It was a difficult time with him in the first half," Rusthoven said. "Changed up the defense in the second, which helped, [but] he just had a great game."
Rusthoven responded to Baptiste's offensive dominance by showing some of his own moves. Deploying his patented baby hook, which Tribe fans will dearly miss, Rusthoven scored 16 points on 8 of 12 shooting to close out his collegiate career.
After crucial contributions in the Tribe's previous two tournament games, senior guard Brandon Britt and senior forward Kyle Gaillard scored seven and five points, respectively. Gaillard dished out a team-high four assists while playing tough defense over 30 minutes of action. Senior guard Julian Boatner recorded only four minutes and didn't attempt a shot despite being consistent for much of the tournament.
"We sort of hung our hat with these seniors, these upperclassmen over the past year, and they've really performed well all year long," Shaver said.
Though it held a 16-9 lead five minutes into the game, the College entered halftime down 39-33. Uncharacteristically poor free-throw shooting held the Tribe back in the first 20 minutes, as the team converted just 3 of its 10 attempts from the line. Delaware's superior strength was clear from the start as Baptiste scored 16 points and hauled in six offensive rebounds in the first half.
Delaware guard Kyle Anderson hit two three pointers in just over a minute to give the Blue Hens a 12-point advantage. Shaver called a timeout with 16:42 remaining in the second half before the CAA Rookie of the Year guard Omar Prewitt took over.
Getting the ball in transition off a turnover, Prewitt dodged defenders before leaping in the paint for what at first appeared to be a layup attempt but actually was a dunk over Delaware guard Davon Usher. Prewitt's dunk, which sent the Tribe fans in attendance into hysterics, was merely the most memorable of nine-straight points. Though he failed to score a point in the first half, Prewitt ended with 14.
Prewitt and Thornton provided the bulk of the College's second half scoring. Ironically, the two players that contributed most to the Tribe's comeback couldn't make a shot in the final minute to seal the game. Stepping to the line with 58 seconds remaining and four points in hand, Prewitt missed his free throw attempt on a 1 and 1. Threatt came back the other way and converted an acrobatic three-point play.
"The key stat of the game was free throws," Shaver said. "We missed eight free throws, 3 of 11 from the free throw line. They were 15 of 18."
Sunday night was the College's third appearance in the CAA championship game in seven years, all of which have ended in defeats. Though just seconds away from ending the distinction, the College remains one of only five programs to have never qualified for the National Collegiate Athletic Association tournament.