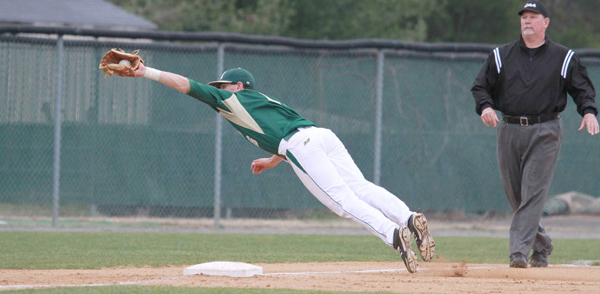 William and Mary defeated the Richmond Spiders 16-11 Wednesday afternoon at Plumeri Park.
The Tribe (11-5) outslugged the Spiders (4-10-1), racking up five home runs in the game, the most in a single game since 2005. Sophomore pitcher Aaron Fernandez lit up the stat sheet, retiring nine straight hitters en route to five scoreless innings.
Senior third baseman Kevin Casey led the Tribe at the plate, going 5 for 6 with three runs, and two RBIs. Casey also hit his first career home run Wednesday afternoon. According to Casey, the Tribe's off-season work really helped his swing.
"It really started in [batting practice]," Casey said. "We were hitting line drives, and throughout the lineup we've been hitting pretty well the past couple of weeks. It's been carrying over, and today was an exclamation point."
But it was Fernandez's pitching that kept the Tribe grounded. The Tribe held a narrow lead throughout much of the game.
"Fernandez was awesome — he was kind of the difference in the game," head coach Brian Murphy said. "He was able to come in and really settle the game down and give us a chance to take control. He was desperately needed."
Fernandez earned his first career win, throwing just over six innings in relief of starting junior pitcher J.T. Castner. Fernandez allowed only one run on four hits, as well as three strikeouts.
Richmond pitcher Jonathan de Marte allowed ten earned runs just over an inning of work.
Richmond scored the game's first two runs, but the Tribe came back to take the lead 3-2 with a homer by junior left fielder Nick Thompson and sophomore designated hitter Ryan Hissey's sacrifice fly. Freshman shortstop Tim Hoehn hit his first career homerun, tacking onto the Tribe's lead. The Tribe held the lead, 7-2, after one inning.
In the second, Richmond responded with three runs to bring the score to 7-5. The drama kept the Tribe on its toes.
"It's fun, but it's also a little nerve-wracking," Murphy said. "Big innings can happen really quickly. We showed it in the first inning with seven runs ­— anything can change."
Casey noted that it was important for the team to stay calm and to stick to what they set out to do.
"Close games are a big emphasis here, especially in the late innings — not panicking and just staying within our game plan and approach and executing, which we've been doing really well," Casey said.
Although Richmond scored five in the top of the ninth, the Spiders' late-inning comeback didn't faze the Tribe.
Murphy's team earned its eighth win in the last nine games. Junior Nick Thompson said the team's attitude in tense games has proven beneficial.
"There's no 'quit' in us," Thompson said. "No matter one out left, five outs left, whenever, we're still going to play."
The Tribe takes the field this weekend in a three game series against Iona at Plumeri Park. The Tribe will play Friday at 7 p.m., Saturday at 4 p.m., and Sunday at 1 p.m.