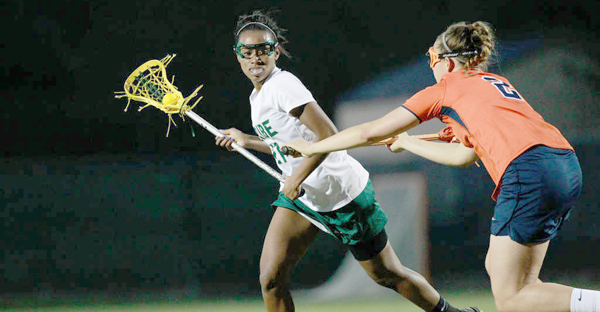 [soundcloud url="https://api.soundcloud.com/tracks/139483678″ params="color=ff5500&auto_play=false&hide_related=false&show_artwork=true" width="100%" height="166″ iframe="true" /]
For the first ten minutes, William and Mary did its best to make sure everyone present at Martin Family Stadium forgot which team was ranked sixth nationally and built an early 3-2 lead. However, the lead was short-lived as No. 6 Virginia (3-4) stormed ahead in the second half en route to a 22-9 victory Wednesday night.
The Tribe (1-4) struck first, as junior Amanda Johnson scored off an eight-yard try only 33 seconds into the game. Sophomore Zoe Boger added a second goal a minute later, taking advantage of her defender's poor position due to an overextended check. The College was able to capitalize on a physical and aggressive Cavalier defense, which committed 21 fouls in the first half alone.
However, the Cavalier's offense didn't say off the scoreboard for long. Quick moves and sudden bursts allowed Cavalier attackers to gain a step on Tribe defenders and fire shots at close range. The Cavaliers initially missed, but quickly warmed up and capitalized on fast breaks to tie the contest at two apiece.
Senior Taelor Salmon helped lead the College's attack, bouncing off a check at the top of the 12-yard fan for the Tribe's third goal at 23:17. Salmon also drew several penalties throughout the game with quick dodges that caught defenders out of position.
The Tribe offense continued to press throughout the half, though an occasional errant pass or groundball cost the team valuable possessions. The first half ended with the Cavaliers leading 9-5.
"In the first half, we fought for the entire 30 minutes and that's something we've struggled with. When they scored a few goals on us, we were able to come back," head coach Hillary Fratzke said. "I think we've definitely made progress as a team."
The second half, however, saw the Cavaliers break the game open with a 4-0 run in the opening ten minutes. Fratzke pointed to transitional play as the difference in the game.
"Our settle defense, again, looked awesome. You're playing against one of the most potent attacks in the nation, and once you're able to get them into settle [defense] you can cause turnovers," Fratzke said. "But a lot of their goals came in the transition, and we just have to stop it."
The Cavaliers held a 39-20 shot advantage, largely due to fast breaks, although College goalies sophomore Meredith Crizer and senior Colleen Nofi combined for an impressive 11 saves.
Senior defensive captain Hannah Clarke, who leads the Colonial Athletic Association in caused turnovers per game (2.5), saw improvement on the Tribe's defense.
"We've improved a lot on our slides and communication," Clarke said. "Our biggest weakness right now is fast breaks, coming off the draw."
The Tribe benefited from goals by Ellen Shaffrey (2), Taelor Salmon (2), Jenna Dougherty, Kaleigh Noon, Alexi Farmakis, Amanda Johnson, and Zoe Boger. Free position shots continue to be an issue for the Tribe, as it capitalized on only one of seven while the Cavaliers scored three of their four attempts. The Cavaliers held the draw advantage 20-13.
The Tribe is now 0-3 against top-ten nationally ranked teams. Playing top-notch teams, Fratzke said, shows the team potential areas for improvement and can be beneficial in exposing weaknesses.
The College faces Virginia Tech (3-4) at Martin Family Stadium March 15 at 1 p.m. After their focus in practice this week, look for improvements in the Tribe's transitional play.