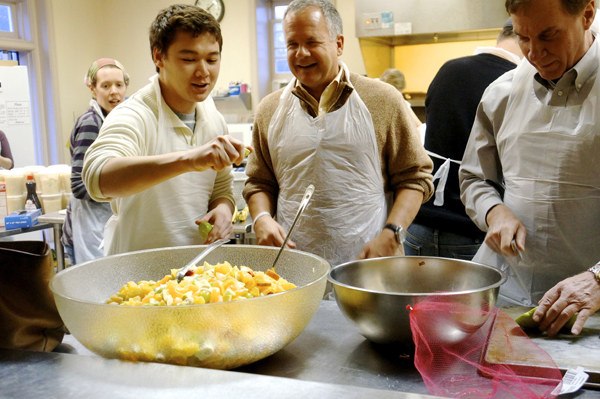 Raising $2,795 in one week, the College of William and Mary's branch of the Campus Kitchens Project finished third in the national "Raise the Dough" competition, drawing from 49 donors and other fundraising efforts in their second year participating.
"We're extremely proud about how William and Mary did," Online Community Engagement Manager Linda Kurtz said. "[After last year], we weren't sure how they would do … but they knocked it out of the park."
Pushing 19 campuses to raise the most money in one week, "Raise the Dough" is a central way the national Campus Kitchens Project helps campuses with their fundraising efforts. Overall, the competition raised over $27,000 nationally. Kurtz said that they find the competition a great way to incentivize fundraising at campuses.
Run by student volunteers, The Campus Kitchen at W&M used a variety of efforts to reach out to campus, including flyers, tabling, emailing and reaching out to both campus and the wider Williamsburg community. The organization also held a profit share at Aroma's Feb. 26, raising $92 off the 10 percent profit for each item purchased in the four hour period
"We actually had a note from them saying that we had one of the best profit shares that they've ever seen and one of the most profitable profit shares," Philanthropy Chair Amber Wright '15 said.
The Campus Kitchen at W&M also included a raffle to incentivize donations. While the group purchased some of the gift cards raffled off, others were donationed  were made by Williamsburg establishments and the College.  Donations including a $50 gift card from The Trellis and items from Extraordinary Cupcakes and the Recreation Center's Massage programs.
"The Williamsburg and William and Mary community was generous in their donations but then, additional to that, they were generous in just giving us gift cards to help promote and get people to come out," Wright said.
Coordinator Anne Hefele '15 said the group plans to use the money to purchase refrigeration bags for meals and perishable goods when in transit as well as work with the Williamsburg Presbyterian Church — whose industrial kitchen the group uses — to purchase a new refrigerator.
"It was a great experience, we raised enough money to feed 200 people in the area …  and give them safe meals," Hefele said.
The College's Campus Kitchens branch started in 2007 and is operated by students volunteers. The group, alongside other volunteers from the College and the community, prepares and distributes about 200 meals per week to five different areas. The organization also includes a  mentoring program and an after- school program. Hefele said the after school program is looking to expand into educating on healthy eating practices.
"We're really thankful. Just advertising it to the William and Mary community, we've never really focused on that in the past. It's always been the Williamsburg community itself and I think we were really welcomed," Wright said.