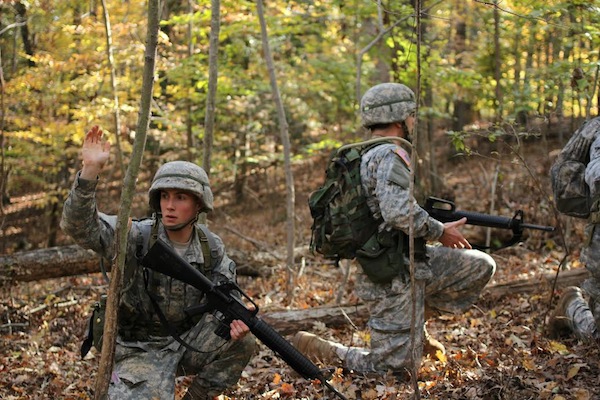 October 2013 raised concern about the survival of United States Army Reserve Officers' Training Corps programs at colleges across the country. With the government shutdown looming, American administrators were forced to find ways to cut down on federal spending.
The Department of Defense assessed ROTC programs nationwide and elected to discontinue funding for programs producing less than 15 officers per school year. Colleges that met the criteria for disbandment were given an ultimatum. The government gave them until the end of the 2014-15 school year to adjust in order to meet the minimum officer production rate. Only then would the schools continue to receive federally facilitated financing.
According to the Army's website, the 13 schools threatened with closure included Arkansas State, East Tennessee State University, Georgia Regents University, Morehead State University, North Dakota State University, Northern Michigan University, Tennessee Tech, the University of North Alabama, the University of California at Santa Barbara, the University of South Dakota, the University of Southern Mississippi, the University of Tennessee at Martin, and the University of Wisconsin – La Crosse.
The College of William and Mary's ROTC curriculum was founded in 1947. Ever since Christopher Newport University's founding in 1960, the program has existed in tandem with that university. Currently, over half of the cadets are enrolled at CNU; approximately 40-50 cadets are students at the College. Despite nearly 70 years of success, questions have risen over whether or not ROTC at the College will be impacted by national budget cuts.
"The military is going through a great time of change, so our training is going to change significantly," Cadet Hunter Gill '15 said. "That means that the Army has to start buckling down on ROTC regulations nationally."
While Army ROTC programs exist to train the country's next generation of military officers, their highest priority is higher education for each student cadet. The majority of national funding that the College and CNU receive is used to fund academic scholarships that cover cadets' tuition. Students can apply for scholarships beginning their senior year of high school. Other aspects of federal funding at the funding at the College and CNU include the costs of uniforms and equipment for training. Lieutenant Colonel James M. Kimbrough, IV, Military Science Department Chair said the College itself provides the monetary means for the Military Science department's basic office and administration needs.
Although the College's joint program will produce a below average number of 13 graduating officers this May, the department remains steadfast.
"The numbers are looking pretty strong for the future of the kids that are in the program now — we're going to commission about 20 officers next year," Academic Department Coordinator for Military Science Brian Randall said.
The only threat that the College's ROTC program faces in the near future is potential reduction of the number of scholarships available to members. Kimbrough added that the value of the awards will not necessarily decrease.
"It's undeniable that operating budgets are going to shrink a bit: we'll just have to do more with less." Kimbrough said. "As long as we maintain our viability, we will be just fine."