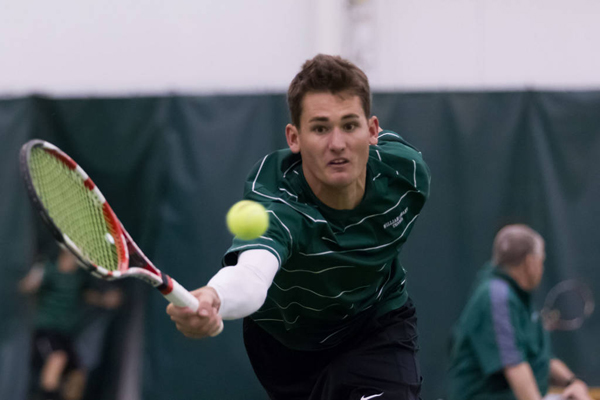 William and Mary (13-8, 2-0 CAA) battled Colonial Athletic Association foe Delaware (4-7, 0-2 CAA) Saturday before facing No. 4 Virginia (15-2) Sunday. The Tribe rolled past Delaware, 6-1, to mark its 11th win in its last 13 matches before falling to Virginia, 6-1, Sunday.
The senior class of Ben Gurthrie, John Banks, and Ben Hoogland were honored Saturday, as the team earned a conference win over the Blue Hens. The doubles point went to the Tribe after the No. 3 pair of Hoogland and Banks dominated opponents Alex Sweet and Zack Niklaus, dropping only one game while marking their eighth straight win as a duo.
Guthrie and freshman Addison Appleby contributed to the doubles point with their win at the No. 2 spot. The pair beat Delaware's Evan Andrews and Mike Furr, 8-4, for their sixth straight win.
In singles play, the College dominated on all fronts, winning five of six matches and only dropping one set in all matches. Competing in a close match in the No. 2 spot, junior Will Juggins lost in a lengthy tiebreaker. Juggins and Delaware's Adam Lawton traded 6-3 sets to force the match into a third set tiebreaker. After stretching the tiebreaker to 14 games, Lawton emerged victorious, 6-3, 3-6, 14-12.
The Tribe racked up straight set wins at the No. 1, 3, 4, 5, and 6 spots. Banks led with a speedy 6-0, 6-0 win over Tim Puterio. Sophomore Scott Huang, freshman Damon Niquet, and Hoogland all grabbed straight set victories over the Blue Hens, marking a perfect 2-0 CAA record for the Tribe.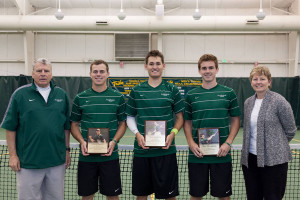 The Tribe traveled to Charlottesville Sunday to take on in-state opponent Virginia. The defending national champions decisively defeated the Tribe 6-1.
The College dropped a tight doubles point for the first time in 14 matches. Virginia's pair of Mac Styslinger and Luca Corinteli edged the Tribe duo of Appleby and Guthrie, 8-6. Virginia took the doubles point with wins at the No. 1 and 3 spots — 8-4, 8-5, respectively.
The Tribe put up a fight in singles action, forcing close sets and a win at the No. 5 slot. Niquet defeated Virginia's Harrison Richmond in straights, 6-1, 6-4. Niquet won the first set by only dropping one game but in the second set, found himself down 2-4. The freshman came back to win four straight games to claim the second set. Niquet is now 11-0 at the No. 5 post.
Elsewhere, the College suffered losses at the No. 1, 2, 3, 4, and 6 positions. Virginia's No. 24 Alex Domijan topped Hoogland with a pair of 6-2 sets at the No. 1 spot, while No. 76 Jordan Daigle edged out Huang 6-3, 6-4 at No. 3.
The Tribe returns to the courts when it hosts a Sunday doubleheader at Millie West Tennis Facility April 6, facing University of Maryland-Baltimore County at 10 a.m.  and Morgan State at 4 p.m.