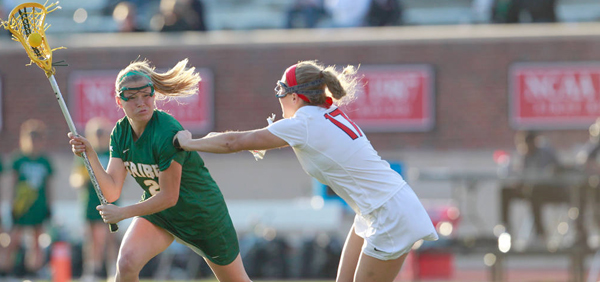 Underdogs on the road, William and Mary (2-8) almost proved too much for No. 18 Ohio State (8-4) Saturday, as the Tribe led 7-5 with 20 minutes of play remaining. However, the Buckeyes fought off the potential upset, rallying to earn a 14-7 victory.
With a 6-1 home record coming into the contest, the Buckeyes looked to outplay the Tribe and scored after just 33 seconds of play. However, the College remained competitive through the first half, with junior attack Ellen Shaffrey leading the way with two goals and a third in the second half. Shaffrey, who leads the team in draw controls, played a key role in the Tribe's 12-11 draw advantage. Shaffrey was named the Colonial Athletic Association Defensive Player of the Week Monday.
The teams played to a 4-4 draw at the break, with Tribe goals from Shaffrey, junior attack Kaleigh Noon and freshman midfielder MC Curran.
The College took a lead five minutes into the second half with Shaffrey's third goal, but the advantage quickly disappeared after the Buckeyes scored off a free position shot. A 30-second span, however, gave the lead back to the Tribe. Curran and Noon scored for the 7-5 advantage with 20 minutes remaining.
The Buckeyes were not to be denied and shut out the Tribe for the remainder of the game, using a 9-0 run to seal the victory. The College has struggled to stem large scoring runs, especially against ranked teams.
However, the Tribe has improved significantly in some areas, even from last week's win against Longwood. Against Ohio State, the Tribe scored on 53 percent of its shots, thanks to improved shot placement and capitalizing on offensive opportunities. The Buckeyes' stingy defense held the College to only 13 shots. The Buckeyes registered 28 shots.
A wintry mix and strong winds skewed the turnover margin, as several passes were affected by the weather. The Tribe, ranked No. 21 nationally in forced turnovers, caused 19 but also committed 23 turnovers, losing a statistical category which head coach Hillary Fratzke has pointed to as the most important to win.
Sophomore goalie Meredith Crizer recorded seven saves in 42 minutes of play while senior Colleen Nofi added another save for the College in 18 minutes of action.
The Tribe opens its conference schedule Saturday, traveling to James Madison for a 1 p.m. start.
In a preseason poll, the Tribe was picked to finish last in the six-team conference.