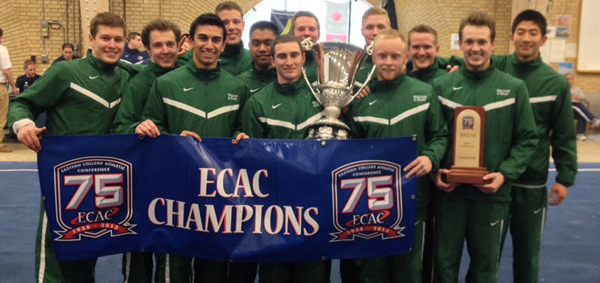 William and Mary defeated five other programs to capture the Eastern Collegiate Athletic Conference title Friday, claiming an automatic bid to the National Collegiate Athletic Association Championships. Michigan will host the event April 10-12. The next day, the No. 12 Tribe won four individual event titles.
The College amassed 424.05 points Friday, topping No. 13 Army (419.1), No. 14 Navy (413.8), Springfield (407.1), Temple (406.81) and Illinois-Chicago (399.45).
Eight Tribe athletes combined to garner 17 individual event qualifications. Senior Daniel Potemski led the team with four qualifications, while sophomore Neal Courter earned three. The Tribe surpassed a school record Friday in the floor competition with a score of 72.15.
After proving its depth Friday, the College went on to win four individual titles Saturday. Courter finished first in two of his four events, recording top scores in floor, with a score of 14.95, and vault, with a score of 14.9. Courter was followed by senior Landon Funiciello and junior Jason Wang at the top of the podium. Funiciello finished first in the rings with a score of 16, while Wang won the pommel-horse with a score of 14.85.
The College also racked up a host of awards Saturday. Funiciello was named the ECAC Senior Gymnast of the Year. Head coach Cliff Gauthier was chosen as the ECAC Coach of the Year, and assistant coach Pete Walker won the Assistant Coach of the Year award.
The College will head to the NCAA Championships in Ann Arbor, Michigan April 10.