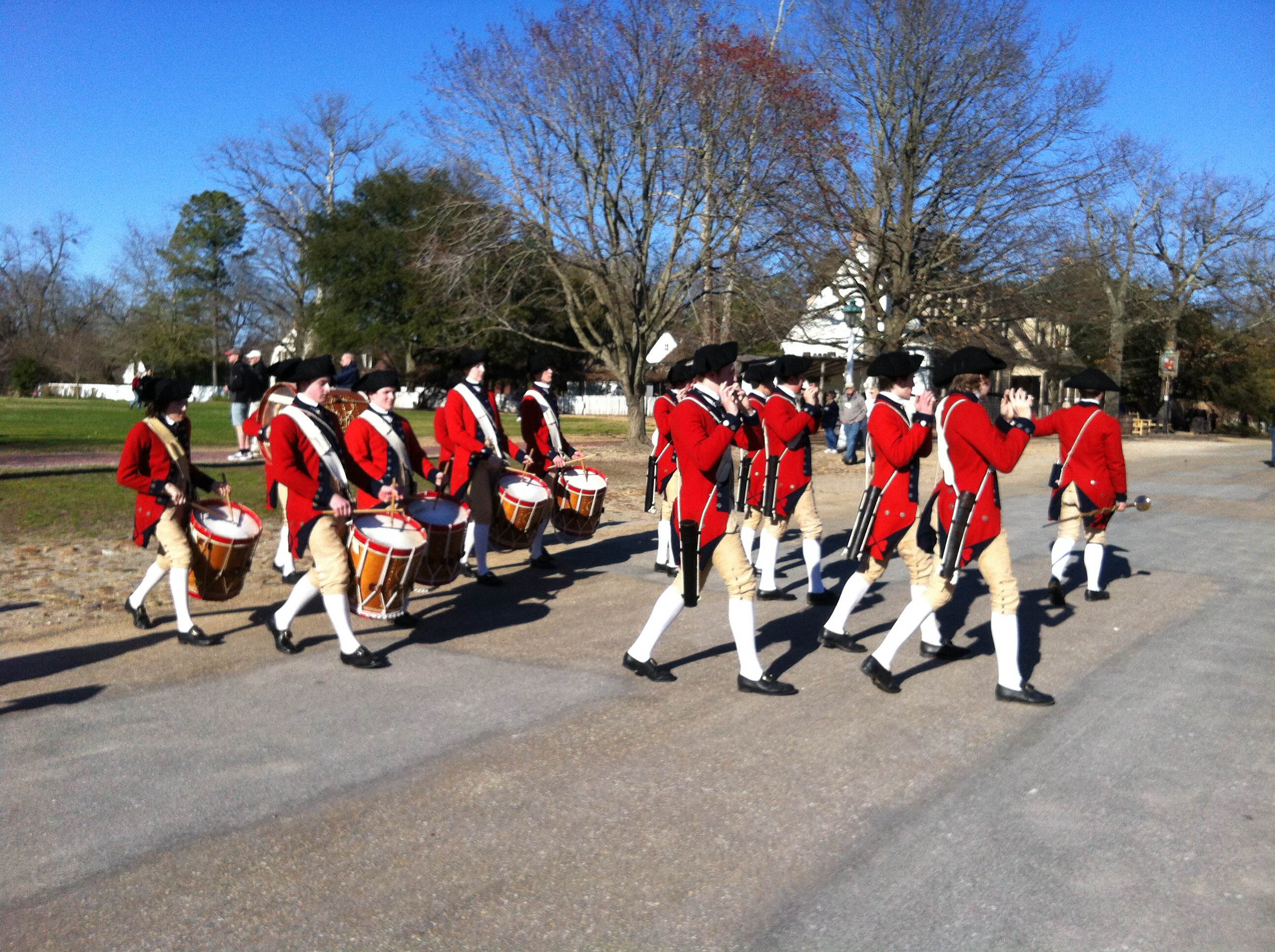 With Colonial Williamsburg just a stone's throw away from the campus of the College of William and Mary, it's easy for students to get swept up in the luster of a living, breathing, talking picture of 18th-century life. Certainly, many students have found themselves wandering into a colonial storefront on a sunny Saturday afternoon and subconsciously wondering to themselves what it would have been like to live in Williamsburg two centuries ago. Well, for several students of the College, that curiosity is satisfied through an unique Williamsburg experience: working as a historic interpreter in costume.
Working as a historic interpreter in Colonial Williamsburg is not an uncommon find among students of the College. As an interpreter, one of the most important aspects involves working in traditional colonial clothing — in most cases an elaborate costume specially fitted for each interpreter. Among those who chose to work in costume are Sara Garey-Sage '15 and Megan Stewart '15, both of whom work in the Wig Shoppe of Colonial Williamsburg.
Garey-Sage, a history and art history double major, first got involved working in Colonial Williamsburg as part of the National Institute for American History and Democracy, a concentration program that works through the history department to build a partnership between the College and Colonial Williamsburg. Through this organization, Garey-Sage was able to earn college credit for an internship with any living history museum, and where better to do that than in Colonial Williamsburg?
As a costumed interpreter at the Wig Shoppe of Colonial Williamsburg, Garey-Sage comes as close as anyone can to traveling back in time.
"It's 'in the moment' interpretation at the Wig Shoppe," Garey-Sage said, "and so we talk as if it's 1776 and the people coming in are real customers wanting to have wigs made."
Garey-Sage spends her days in traditional colonial attire, which, for her, involves a very elaborate costume.
"I begin with what's called a 'shift,' which is essentially a night-gown that goes under everything else," Garey-Sage said. "I then have this pocket that I tie around my waist, because garments in that time didn't have pockets sewn in. And then I wear a floor length skirt, and a jacket. There are two styles for jackets — one that is a little bit looser and longer, and another that is short and laces up the front, and I wear an apron with both."
The entire process to get dressed takes Garey-Sage a little over 10 minutes, but clothing is just the start of getting into the proper attire for a historic interpreter. Since women of that time didn't wear their hair down, interpreters must also pin their hair up and cover it with "knob-caps," which are essentially the recognizable form of a cap or bonnet. The ensemble is completed with stockings and traditional colonial shoes, all of which are provided by the Colonial Williamsburg Costume Department, with the exception of a straw basket, which interpreters must supply for themselves.
"They really provide everything you need to work in the historic area." Garey-Sage said, "I think they provided me with two skirts, two shifts, like six pairs of stockings, a pair of shoes, two bonnets, two coats, a cloak, a wool clock, mittens and hats for when it's cold, and they actually launder everything for you except for the shifts and stockings, so it's really nice."
Garey-Sage has been working in the Wig Shoppe for several weeks now, and plans to continue on after her internship ends as a volunteer.
"As a history major, I really like it," Garey-Sage said. "If you have an interest in history, even if you're not a history major, working in costume as an interpreter is an exciting way to be a part of that and to give back in a sense."
Megan Stewart '15, an international relations major, joins Garey-Sage as one of the College's own who has chosen to work in costume as a historic interpreter. Also an employee at Colonial Williamsburg's Wig Shoppe, Stewart found her way into working in costume through a slightly different route — working as an intern with the Wig Shoppe itself.
"I attended a seminar through the [Sherman and Gloria H. Cohen] Career Center where students could learn about internships and where to find them and apply for them," Stewart said. "I went online, and discovered this internship with the Wig Shoppe, and working in costume was something I had always wanted to do. I did the internship last semester, and enjoyed it so much that I just asked to stay on this semester."
As a Wig Shoppe employee, Stewart dons the same elaborate colonial costume as her co-worker Garey-Sage.
"I was so excited to get fitted for costume," Stewart said. "It's a lot of layers, and it's a lot of taking things on and off to change. The first time that I tried it on, it took forever. I was in my dorm room, and I had to have my friend help me figure out how it all went together. I'm much better at it now; it only takes me about 10 minutes."
Stewart's love for history and Colonial Williamsburg began at a young age, and played a major role in helping her decide to attend the College. That love continues in her work at the Wig Shoppe, where she can be found along with Garey-Sage during the week tending to the wigs of other historic interpreters, in costume of course.
"I came to Williamsburg first when I was six and I thought it was the greatest place ever," Stewart said. "Working in costume was something that I always knew I wanted to do while I was here. I just didn't quite know how since I'm not a history major. Luckily, it all worked out well through the Career Center. It's my favorite part of being here."