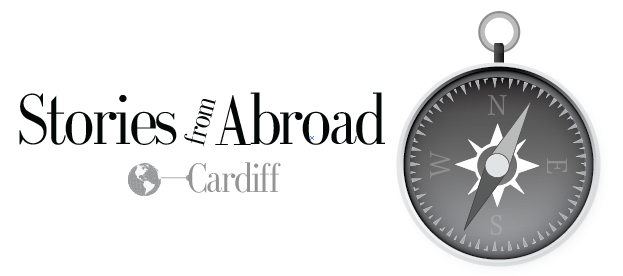 This column was originally posted on Associate Sports Editor Mick Sloan's study abroad blog, Stories from Cardiff. Check out his full blog. 
ESPN's Bill Simmons, one of my favorite writers, is not known for his parental insights, but one of his anecdotes struck me.  He talked about how, over time, his  kids have become real people, telling stories that make sense and jokes that are funny.  It was a throwaway moment – I think it had something to do with NBA forward Josh Smith – but it resonated with me to such a degree that I started thinking about my own childhood.
I could write a book about the totally inexplicable things I did when I was a kid. When I was two, I smashed my brother's block towers because my personal hero was Godzilla. When I was seven, I tried to kick a ball with both feet and fell headfirst into a wall. At some point I stopped doing those things and became a functioning member of society. And, eventually, I started to think of my parents as people who existed before I was born — actual people who had lives before me.
I started playing guitar when I was 11 and listened to rock and roll because that was what my parents played when I was young. One my favorite bands as a kid was The Who, my dad's favorite band for, I believe, most of his life. I remember spending Saturday mornings riding to guitar lessons with my dad while listening to and discussing The Who. Our mutual appreciation of them was probably one of the first things we genuinely had in common. Even though I don't listen to them as much as I used to, The Who will always be special to me for that reason.
The album that stands out from the rest is Quadrophenia, The Who's 1973 concept album. It's still my dad's favorite album of all time. He can't say enough about it. He'll probably listen to it after reading this post. I've always enjoyed it as well, in large part because of how much it means to him and how it has connected us over time.
A prominent portion of Quadrophenia takes place in Brighton, a seaside town in southern England. I had no prior knowledge of it, other than its connection to the record. But when I got to the UK, it seemed wrong not to pay a visit to the city – you could almost call it a pilgrimage. It wasn't easy to get there – over eight hours of travel round trip – but I couldn't resist.
And I'm glad I went.  Like Bath, Brighton exceeded every expectation I had. I was lucky enough to go on a sunny, warm Saturday, so the town was buzzing with visitors the entire day. It had a distinct beach-town atmosphere – the kind that seemed impossible to produce in a country known for being cold and rainy – which I felt as soon as I walked out of the train station. I wandered aimlessly toward what I hoped was water, eventually stumbling upon the majestic Royal Pavilion, a seaside retreat for past royalty that I didn't know existed.
I was already taking a liking to Brighton before I even found the sea, but reaching the shore pushed the experience to a different level. It's worth noting that I had absolutely no clue that I was going in the right direction, so when I happened upon the beach, I felt like a European explorer seeing the Pacific Ocean for the first time.
Like most of the UK, Brighton seems to hold deep reverence for its past.  Stumbling upon Brighton Pier and the surrounding beach felt like wandering into the world's most realistic museum, visiting a moment arrested in time.  Something about the beach's aesthetic — marked by a wooden pier, small local businesses  and ornate hotels — felt preserved from an earlier era. I spent a long time exploring the beach, walking into nearly every store, venturing close enough to the water to get my feet wet (and cold), and feeling quite relaxed.  It was the perfect way to put aside my final papers and projects for a day.  Brighton made March 29 in the United Kingdom feel like a perfect summer's day.  That's really the best way to describe it.  I'll never forget the trip.
I of course thought about Quadrophenia: how the location of Brighton leant itself so perfectly to the story and how it made me understand the album a bit better. So, obviously, I thought about my dad. He never pushed me to come to Brighton, but when I talked to him after I returned, I could tell he was happy that I went. More than anything, I wished he could've been there with me. I hope my story is enough for him for the time being.
Because I wouldn't know how else to end a blog post, here are some other things from the past week.
As part of a final project for one of my classes, I've been watching a large number of UK news bulletins lately. What's struck me most is that it seems like an unwritten rule that a reporter has to show up on screen for every single report, even if it's a meaningless five second appearance. In four hours of viewing, I've seen one correspondent fail to appear on-screen during a segment. I can only assume he was trapped under something.
On the train to Brighton, I was next to a large group of well-dressed people drinking Smirnoff out of cans. It was before 10 a.m. Dedication.
On Friday night, a Killers concert video played for 20 uninterrupted minutes at a pub I was visiting. It was awesome.
Marvel's "Captain America: The Winter Soldier" has already been released here, a full week before it comes out in the US. What? It has America in the title. I have no idea how popular it is here.
My March Madness bracket is smashed to pieces. It was bound to happen eventually, I suppose.
Finally, March 30th is Mother's Day here in the UK. My mom is one of the best people I'll ever know (and a loyal reader), and although she deserves a whole calendar of Mother's Days, I'm glad she gets at least two of them this year. Happy UK Mother's Day, Mom! Love you very much, and I hope you feel celebrated in a distinctly British way.
That's all for this time. As always, thanks for reading. I'll be back with more later.