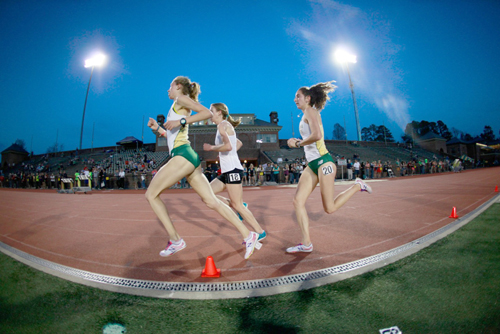 A springtime tradition since 1965, the 49th Annual Colonial Relays showcased hundreds of athletes from over 50 schools at Zable Stadium and the Stimson Throwing Events Area Thursday, Friday and Saturday.
William and Mary finished fourth (57 points) in the women's competition and tied for ninth (42 points) in the men's competition. Rutgers' women (111 points) and Bucknell's men (101.2) left Saturday night with the overall titles.
"The competition this year was even bigger than last year," Director Stephen Walsh said. "We had more teams, and we had a lot of quality teams. A lot of big-time schools came down, and we held our own against them."
Senior Elaina Balouris and sophomore Emily Stites provided one of the most memorable races in recent Colonial Relays history Friday night. Running neck-and-neck throughout the entire 5,000-meter race, Balouris and Stites came into the final stretch in a dead heat. The teammates dashed to the finish after grinding through 12 laps of the track. Balouris barely edged out Stites over the final half-mile to win the race with a time of 15 minutes and 56 seconds, getting to the line just inches ahead of Stites, who finished with a time of 15:57.04.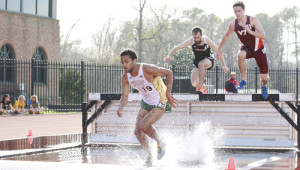 "Once again, they went out and got the job done," Walsh said. "The game plan was to go out in 5:05, that's what they did. They got in on the pace, ran sub-16, and that would definitely qualify them for the NCAA Championships. They're in a heavy training load right now, because we're really looking toward June with them. So with them running tired it's not easy to do, but they definitely responded well."
Walsh was quick to point out that although Balouris and Stites' finish was dramatic, the two teammates' relationship is marked with mutual respect and pride for each other's achievements.
"They're competitive, but they both want each other to run well," Walsh said. "They've shined in different areas, and they've both had a lot of success. They both work well together, and they've really had a lot of success over the past two years because of that."
The Tribe men and women earned the majority of their points Friday night with the long-distance track events. Balouris and Stites' combined 18-point haul in the 5,000 meters punctuated their team's 39 points from Friday. On the men's side, sophomore Ryan Gousse won the 3,000-meter steeplechase with a lifetime-best time of 9:04.20, contributing to the men's 31 points Friday.
"Gousse in the steeple with a 9:04 … that's almost a 20-second personal record in the steeple, so it's a big jump for him," Walsh said.
The College's 1500-meter team of sophomore Meghan McGovern, freshman Molly Applegate, sophomore Erica Amatori and junior Carolyn Hennessey captured their team's sole win Saturday. The team finished with a time of 18:52.34, the 16th-fastest time in school history. The men's 1500 relay of sophomore Nathan Thomas, senior David Gunnerson, sophomore Jacob Sears and freshman Trevor Sleight finished the race in 16:05.97, good for fourth overall.
Senior Taylor Frenia provided a huge boost to the Tribe's score over the weekend while recording three personal-bests. Frenia captured the title in the shot put Friday with a put of 16.81 meters, longest in school history since 1983 and just five inches away from a school record. Frenia also finished fourth in the hammer earlier that day with a throw of 50.01 meters. Frenia finished fifth in the discus with a throw of 46.61 meters Saturday. All told, Frenia contributed 19 points to the College's total.
After the meet, assistant coach Dan Stimson was inaugurated into the William and Mary Hall of Fame. Stimson served as the Director of Track and Field for 25 years before stepping down in 2011 to become an assistant coach for the Tribe's throwers. Stimson's teams won 25 Colonial Athletic Association titles during his time as director.
The College's program will travel to the Mason Spring Invitational in Fairfax, Va. Saturday.