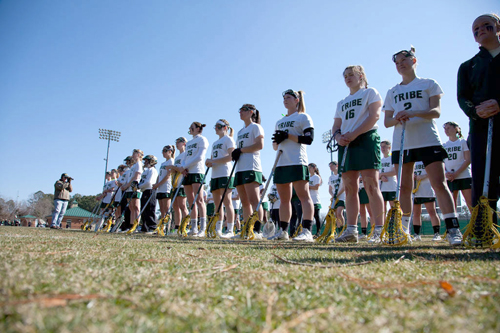 Seven dollars won't go far at most places on campus. Sophomore midfielder Trish Gorman and twin sister Kelly Gorman are trying to change that ahead of Friday's home game against Hofstra. 
"My team is really supportive of survivors and passionate about fighting sexual assault. The game is already dedicated to sexual assault awareness," Trish Gorman said. "Because of the NCAA restriction, we couldn't do more as a team officially, which is why we took our own initiative."
Shirts are being sold for $7 all week around the Sadler Center and via online order forms. Sales proceeds will go toward sexual assault awareness, and buyers are encouraged to wear the shirt to Friday's home game.
Each extremely passionate about sexual assault awareness, Trish and Kelly Gorman began to find ways to show support of for victims. Following the virtual success of the "William and Mary Stands with Survivors" campaign, the Gorman twins looked to continue the momentum.
"We're trying to think of ways the William and Mary community can show more tangible support for survivals of sexual assault and more ways to spread sexual assault awareness," Trish Gorman said. "Our idea was to take the 'Stands with Survivors' campaign and move it to the next level — bringing that support and bringing it … to the physical world."
What began as a movement by the Gorman twins quickly grew. The lacrosse program redesigned Friday's game to include the campaign. Fans wearing the shirt will receive baked goods, while attendees will be encouraged to sign a banner in support of sexual assault victims.
"This is the game [fans] want to go to because it's more than just a game. It's the community coming together and it just happens to be that this game is for it," Trish Gorman said. "It's a great space to come show our support."
While Trish Gorman got the lacrosse program on board, Kelly Gorman approached Health Outreach Peer Educators. With connections through her position as HOPE's Vice President of Substance Abuse and Awareness, Kelly Gorman received the organization's support.
"Trish and I started this ourselves and then we asked HOPE if they wanted to partner with us," Kelly Gorman said. "Everyone has been very receptive and wanting to get involved and wanting to help."
The Gorman twins are relying on the supporting nature of the campus community and relevant nature of sexual assault awareness in hopes of a strong turnout Friday.
"We think the community can do more. It's done a lot, and clearly the community came together with the 'Stands with Survivors' campaign earlier in December," Trish Gorman said. "We think we can take it to the next step."
The chance to create a movement on campus enticed both sisters. With fans wearing shirts and attending the game, Trish Gorman sees the event as an opportunity to make a statement of support for sexual assault victims and sexual assault awareness.
"You have everyone in the community congregated, standing against sexual assault and in support of survivors," Trish Gorman said. "We think this is a really good way for the community to come together and show its support."
Like many movements, the key to survival is continued growth. Paired with the chance to brand the College as the home of sexual assault awareness, the Gorman sisters want to see similar movements on other campuses.
Backed by a supportive community and a campus acutely aware of sexual assault issues in and around the Williamsburg community, Trish Gorman said she believes students will support the cause and help foster a larger movement in support of sexual assault victims.
"I think we can even set a precedent for other campuses. Picture how awesome that would be if our campus stood up against sexual assault and that was a thing William and Mary was known for — a community of students who stand for more and take a collective stance against sexual assault," Trish Gorman said. "Hopefully we can get this to spread. This is something that's a huge topic in the news right now. I think this could become something profound. There are people who are passionate about this topic."
Friday's game is set for a 7 p.m. start at Martin Family Stadium. The Student Assembly has committed transportation to the stadium and included the game in its I Am W&M week. 
"This game — it's about more than just the game. It's about the struggle that affects so many people in some way," Kelly Gorman said. "This game isn't just being played for lacrosse; it's being played for the broader context of coming together and being a community of support for each other. Whether or not you like lacrosse, it's a great chance to show support."