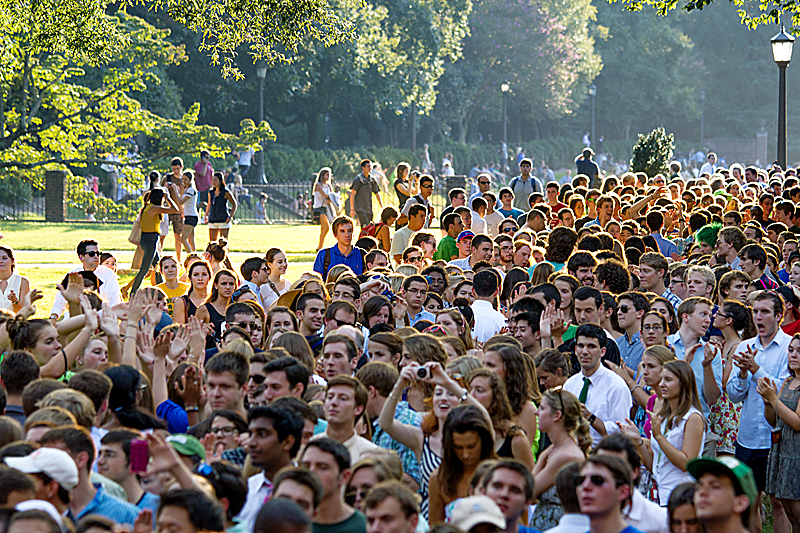 Approximately 4,700 prospective students learned of their acceptance to the College of William and Mary via email March 26, after being selected from a record-breaking number of applicants.
More than 14,500 students applied to join the College's Class of 2018, marking a 3.5 percent increase from the size of last year's pool. This was also the tenth consecutive year that the College has seen an increase in its applicant pool. The Office of undergraduate the Admissions read through 14,035 applications for the Class of 2017 and 13,600 for the Class of 2016.
The College's goal is to enroll an entering freshman class of 1,520 students, 20 of whom will be in the St. Andrews joint degree program.
"As excited as I am by all these students have accomplished so far, I'm even more excited by their potential," Dean of Admission Henry Broaddus said in an email. "The next four years at W&M will take them to even greater heights, and I look forward to seeing that happen on campus."
Academically, 89 percent of admitted students who reported class their rank are expected to graduate in the top 10 percent of their classes. The median SAT score for accepted students was 1420 — combined math and critical reading scores — up from 1410 last year and 1400 the year before.
Students of color make up 32 percent of admitted students for the Class of 2018. Another 9 percent are international students. The numbers are similar to last year's, as 33 percent of admitted students for the Class of 2017 were of color. International students comprised another 8 percent of last year's accepted group.
Accepted students will have the opportunity to visit campus this weekend for the annual Day for Admitted Students, which will take place Saturday, April 12 from 9:30 a.m. to 4 p.m. The event offers programs and activities to give attendees a sense of what it is like to go to school.
Broaddus lists three recommendations for all potential new students at the College.
"Make friends with students who have different backgrounds, interests and opinions than your own," Broaddus said. "Take advantage of faculty office hours. And wear flip-flops in the shower."
Flat Hat News Editor Áine Cain contributed to this report.