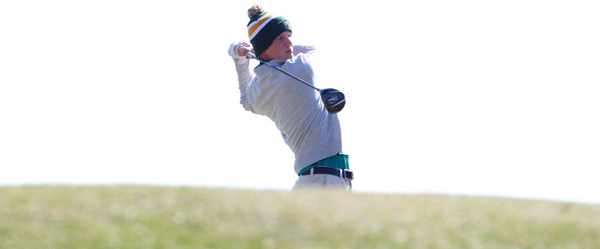 One of the only ways to tell Austin and Davis Morrison apart is their style — their golf style, that is.
The identical twins are freshmen on the College's golf team and are almost as similar on a stats sheet as they are in appearance. The Morrisons both finished with identical scores at the Snowman Getaway tournament February 25, tying for 21st place out of 100 competitors.
A month later, they earned identical scores again at the Middleburg Bank Intercollegiate March 25, tying for 25th out of 141 players.
"It's kind of weird. The first question people ask us other than the usual twin questions is 'Who's better at golf?' We've always had to answer, 'Neither one of us," Davis said. "We just play different style games. When we're both playing well we're going to shoot about the same thing. We played well the past two tournaments, I guess, and we ended up tying."
The North Carolina natives both attribute their choice to attend William and Mary to Director of Golf Jay Albaugh and Assistant Coach Ryan Peffer.
"I'd be lying if I said it was all about school. I think the main reason I came here is because Jay and Ryan really wanted me to come here." Austin said.
Austin committed a month before his brother.
"Coach Albaugh cared about the academics of the team. We have one of the highest team GPAs at the school, and while he was recruiting me he made that really important compared to some of the other schools I was looking at … and the fact that Austin committed here a month before I did kind of made it an easy choice." Davis said.
The twins began playing golf as children with their father and both decided to get serious about it around sixth grade.
"It kind of started with my golf coach — she played college golf at NC State and she said when we were really young that we had the potential to play college golf just based on the skill sets she saw we had. … It kind of made playing college golf my goal from eighth grade on and I just kind of kept on improving. I hit a growth spurt that helped me gain some distance, which was big, and then I gained a lot of distance before coming here," Davis said.
Davis started the season strong, ranking 21st out of 88 at his first invitational and 10th out of 64 at the Joe Agee Invitational in September.
"I got lucky because I played really well my first weekend here," Davis said. "We have to qualify for events and I got lucky I played maybe my best round of the year in the second qualifier … so I was able to start playing really early and it gave me a lot of confidence."
Austin placed 55th at the Joe Feaganes' Marshall Invitational and then 12th at the Joe Agee Invitational at the beginning of the year.
"Last semester, I think [Davis] adjusted a little more quickly to playing college golf than I did, so his scores early in the year were much better than mine. But ever since then really, it's like the same guy going out there," Austin said.
Austin has been catching up. He was just named the Colonial Athletic Association Men's Golfer of the Week and placed 3rd overall at 215 (+5) at the Greenbrier Collegiate invitational in West Virginia this week.
"We'll play matches and obviously we want to beat each other, but at the same time we want to make sure we're playing well because we both want to be in the lineup," Davis said. "It's a lot more comfortable when both of us are going to the tournament together, which luckily has happened so far."
Both Austin and Davis were at a loss when asked what set them apart. Both affirmed that the starkest contrast between them is the way they play golf.
"We have very similar interests — that's why we're roommates," Davis said. "That's why we both play golf. The one thing that everyone on our team notices is how differently we play. He plays by hitting a lot of greens and I play it by kind of just hitting it everywhere and kind of just scrambling around. They both work for us, we end up shooting around the same thing."
Austin and Davis are two of three freshmen on the roster this year. Lucca Horwitz is the third.
"We're a really close team and [my teammates] help with the transition to college," Davis said.
The twins deem the camaraderie they feel on the team one of the ways they escape from the bubble of living together.
"We have a really good relationship," Horwitz said. "They pick me up to go to practice all the time because I'm the only one on the team without a car. We get along really well. They're really focused. They're obviously here to play golf and they do really well."
The team does not currently have any sophomores, meaning that as juniors, Austin, Davis and Horwitz will be leading the team. The three said they look forward to serving as the backbone of the team in years to come.
"It will be our team junior year and that's kind of exciting because not many people get that opportunity on an athletic team … to really get two years to lead a team," Austin said.
Whether their "twinning" streak will continue is unclear. However, the Morrison brothers share a certainty of the team's bright future.
"I think we have a really talented team," Davis said. "I think if we just get a little bit more consistency with the way our guys play, we can definitely be competing to make it to regionals this year or next year."