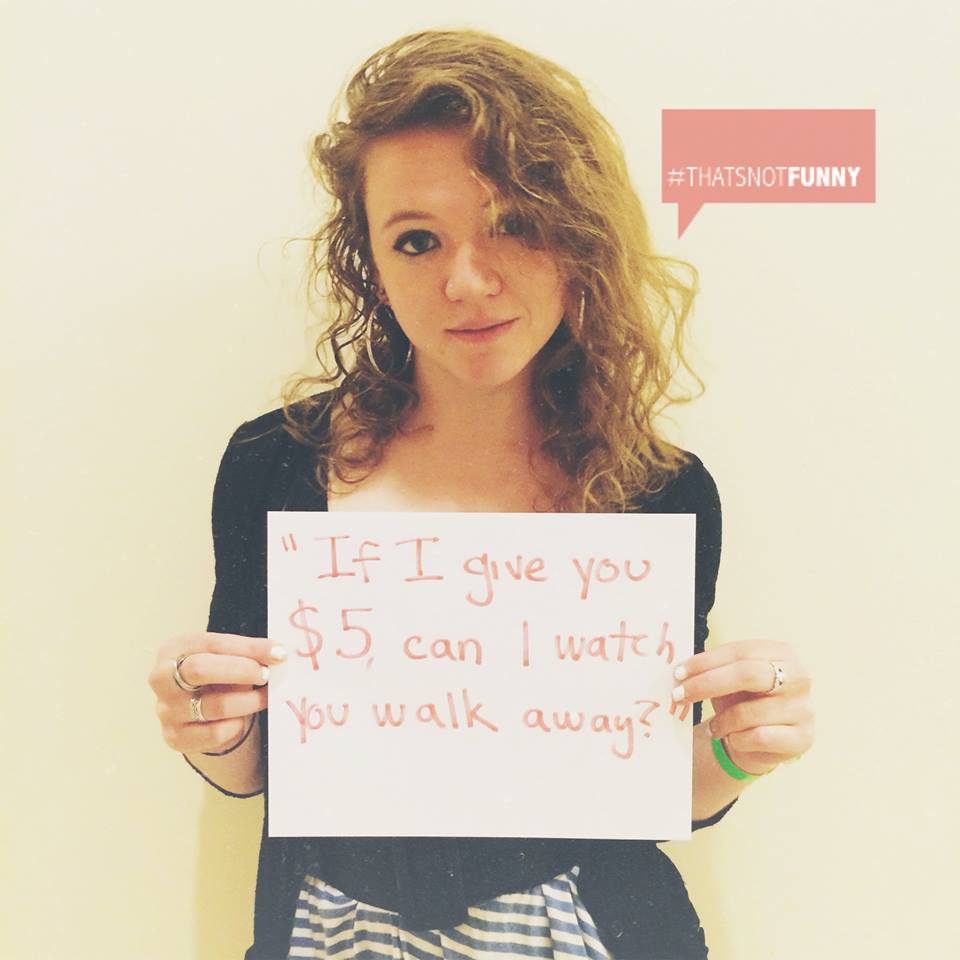 Four women at the College of William and Mary are on a mission to prove that feminists can, in fact, take a joke. As a project for a course on feminist activism, they launched a campaign on campus to shine a light on sexist humor and to undermine the conventional assumption that comedy is exclusively for men.
Meghana Indurti '14 was inspired by her interest in comedy, feminism and media, and enlisted the help of classmates Jasmine Deane '14, Ashley Meredith '14 and Shilpa Garg '17. Together, they created a Facebook page called "Wait, That's Not Funny," where they share examples of unfair portrayals of women in the media. Students can submit photos of themselves holding signs with common sexist jokes and the hashtag #thatsnotfunny.
One of the requirements for the feminist activism class is to host a large-scale event on campus. For the "Wait, That's Not Funny" group, the idea for a women's comedy show actually preceded the Facebook page. Monday evening, the group hosted "Funny Girls," in which seven female stand-up comics, including Indurti, took the mic and addressed gender stereotypes.
The women of Improvisational Theatre also performed. Maddy Benjamin '14 noted that female membership for the group is currently at an all-time high.
"This is the first time in recent memory where 50 percent of IT is made up of women, which is awesome and exciting," Benjamin said. "There have also been plenty of times when there have been three of us in a group of 12, and it makes you ask questions."
While the performers did not stick religiously to the themes of feminism and sexism, these issues dominated the acts. Indurti, whose comedy act took a turn for the more serious, talked about moving from India to the United States as a child and relying on television to learn about the new culture. She has since learned about sexism in media — specifically, the emphasis put on women's appearances and the way women degrade one another as a form of humor.
"We'll have characters on romantic comedies saying things like, 'Stop being such a pussy,' 'Stop being such a girl,' and it's funny because they're above women," Indurti said. "They're better than normal girls. In this way, we shame girls. We tell them that being a girl is not good."
Originally, "Funny Girls" was planned as a scripted performance, but as the organizers further developed the idea, they decided to give the performers free reign to be funny, rather than trying to pin down humor themselves.
For Deane, there is something powerful in using comedy itself as a means to combat sexist humor.
"We basically fought fire with fire," Deane said. "Usually offensive things are said in jokes — why can't we show comedy that isn't degrading and that it can actually be funny?"
Meredith was pleased with the way that "Funny Girls" complemented the "Wait, That's Not Funny" page by addressing issues publicly and showing examples of the funny women the Facebook page elevates.
"I think the Facebook page is better for addressing the everyday things that happen but [the Funny Girls event] is better for showing that women are funny, and to publicize," Meredith said.
While Deane and Indurti are graduating this semester, Meredith and Garg hope to continue the work they started. They are considering forming a club next semester, and Garg hopes to use her skills as a marketing major to continue to publicize the cause via the Facebook page.
As of Wednesday morning, 918 people had liked the "Wait, That's Not Funny" page, which was launched March 11.
Deane said, while they did not expect the page to get so much attention, she was not surprised by the amount of comedic material the "Funny Girls" performers were able to come up with, since sexism, on some level, is a part of many people's everyday experience.
"I think it's so easy because this stuff happens to us every day," Deane said. "And one thing I noticed with the Facebook page, even for myself, I was like, 'Oh, wait, I even say these things.' And I say it as humor, but it's not really funny, and in a way I'm putting my own self down."
Indurti also emphasized that the issues the Facebook page highlights are easily relatable — and not just for women.
"It feels like it's a page that girls can understand … and feel a sense of that community," Indurti said. "Even guys have messaged us, like 'This is such a great page, I'm glad someone's doing this.' It's something that was on everyone's mind and it wasn't necessarily being addressed because it's so little, and we turn it into something big."