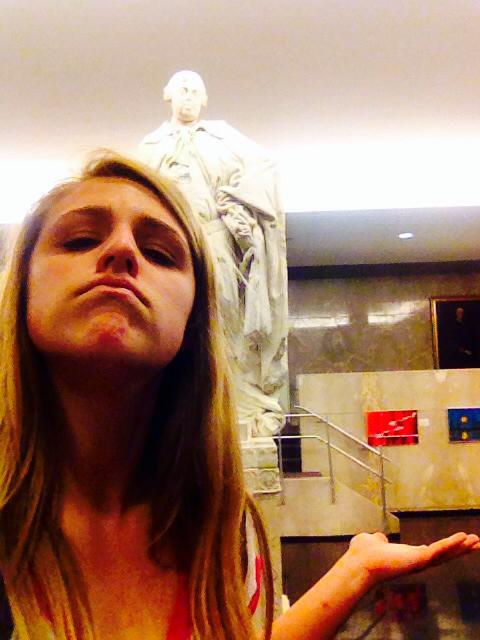 It was just a matter of time before Earl Gregg Swem Library jumped on the selfie bandwagon. "Selfies with Swem" is one of events Swem is hosting in honor of National Library Week.
The American Library Association created the National Library Week to draw attention to the value of libraries in communities. During this nationwide event, libraries are encouraged to come up with their own ideas about how to celebrate.
Tami Back, the Associate Director of Strategic Communications and Outreach in Swem Library, said that "Selfies with Swem" was hosted as part of this celebration.
"We brainstormed different things that we thought would be fun to draw attention to National Library Week, to draw attention to the libraries in general, and the role that libraries play in education and lifelong learning," Back said.
In addition to doling out free cookies, pens and bookmarks, Back and the External Relations department asked students to post their selfies in Swem to the Swem Facebook page. A winner was drawn randomly to win a free Swem Library t-shirt.
Emily Schaefer '17 was the winner of the contest. She said that the selfie location she typically prefers is Fauquier, but she chose to snap a picture with the Lord Botetourt statue for the contest.
"I think a good selfie should have some character," Schaefer said. "Like if your selfie could double as a magazine cover, you're doing it wrong. Going for the quadruple chin always yields good results."
Many other students and faculty posted their pictures on the page.  Some snapped pictures with friends, while others took the opportunity to point out their favorite places in Swem.
Charlotte Alan '16 is a veteran of Swem contests. "I participated in the 'Name a Librarian's Favorite Movie' contest and won that," Alan said. "I got a snazzy water bottle and some sweet post-it notes."
Alan chose to take a picture with the Special Collections Research Center.
"I usually don't take selfies, aside from Snapchatting my friends. And those are usually taken on my bed because I am constantly napping or watching QVC," she said.  "Is there such a thing as a good selfie? Either you look terrible because you are goofing off or you look fantastic and you are just being incredibly vain."
The week's event will wrap up with a Twitter campaign on Friday. Students, faculty and staff are encouraged to tweet about their library experience.
"Using the hashtag 'Lives Change,' you're supposed to tweet about how the library has changed your life. So we're doing that on Friday as part of the national campaign," Back said.
For Back, the library has had a place in her life since childhood.
"To me, it's kind of mind-blowing that I can go into this building and check out anything that they have for free. … I love that libraries provide access to anyone," Back said. "You don't have to have a lot of money, if you can't afford a book at a bookstore, you can go to your library. It's really about providing access to the public, to information, to knowledge."
Back works in the Swem External Relations office, which is responsible for many of Swem's special events, social media and communications. The office recently expanded from the Development office, which was mainly focused on fundraising.
"We're always looking for different ways to reach our community; to reach students, faculty, staff, even the Greater Williamsburg community," Back said. "For the next year, we're really focusing on our student outreach. We're looking at creating a student advisory board. We're in the initial stages of that, but that's definitely something that we want to do. We've been trying to gather more student input, because we want to hear what we can do better, what they like."