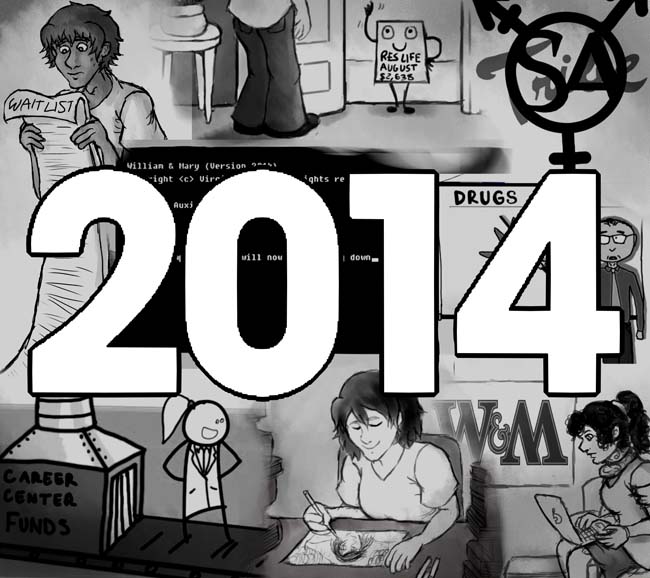 At last, Williamsburg's erratic weather patterns have subsided and summer break is nearly upon us. In keeping with our glorious tradition, we'll take a look at the good and the not-so-good moments of the semester.
Thumbs up to the College of William and Mary for giving College President Taylor Reveley a merit raise. Reveley has fought since the recession to increase College employees' salaries, which remain frozen. He previously refused a pay increase in solidarity with the faculty. While Reveley needs to continue fighting for faculty, we are glad that he will be rewarded for his years of hard work and dedication to the College.
Another thumbs up goes to the Student Assembly for the general conduct of its election. A scandal-free year may feature fewer Flat Hat stories, but it maintains the College's and the SA's integrity. We were impressed with the three presidential candidate pairs, who could have all served the student body well as president and vice president. However, we give an extra thumbs up to Colin Danly '16 and Kendall Lorenzen '16 for breaking our endorsement curse.
We give a thumbs down to the new College Curriculum. Narrowly passed with less than half the eligible faculty members voting, the College Curriculum eliminates General Education Requirements and replaces them with interdisciplinary COLL classes to be taken throughout a student's four years. While no one loves the current GER system, the new curriculum appears less accommodating and very vague. We hope that in the five years before its implementation, the College addresses these concerns.
Thumbs down to Auxiliary Services for closing the Tribe Computer Store. Although it was largely unknown to many College students, it provided a valuable on-campus resource, especially for students with Apple products. It also provided technical and sales experience as well as flexible hours to its employees. Framing the Tribe Computer Store's closure as a shift to web-based services is misleading because students already had access to those online resources and benefited from a physical location where they could bring their computers.
We would like to give a sideways thumb to computer science at the College. TribeHacks was a great success, attracting big name sponsorships like Google and bringing together an often-unrecognized part of the College community. However, the computer science department still struggles to provide its majors with necessary classes. The College must do everything in its power to alleviate this shortage and retain our talented programmers.
Finally, we give another sideways thumb to the College's new five-year contract with Sodexo. We agree that after more than 20 years of Aramark's inconsistent food quality, it was time for a change. That said, we know very little about Sodexo; it may usher in a new era of high quality campus dining, or students might forget that control of dining services has changed hands.
As the year ends, we say farewell to our senior friends and wish them luck on the next chapter of their lives. We hope your time here brought you closer to your dreams.