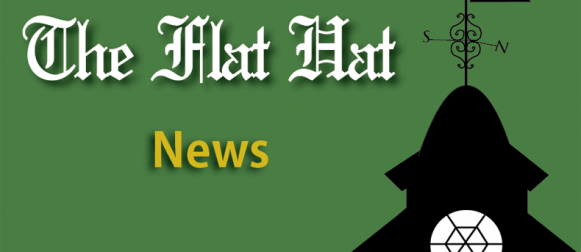 The Last Day of Classes is recognized as a time for  Sunken Garden festivities, debauchery and brightly colored tank tops.
Each year, members of sport clubs, fraternities, sororities and other campus organizations design, order and raise funds to procure matching tank tops. However, campus groups are not the only entities that are busily working through this Blowout tank-top-ordering process.
Locally and across the country, t-shirt and screen-printing companies are inundated with orders from College students celebrating their Last Day of Classes. University Tees, a screen-printing company based in Ohio that produces garments for schools across the country, conduct 17.8 percent of their yearly sales in April alone, according to Business Development Leader Lindsay Beile. By the end of this month, they will have printed over 80,000 garments.
"April is definitely our busiest month," Beile said. "We definitely see a spike. We're working long hours."
Both national and local screen-printing companies experience these long hours. Williamsburg Graphics is a custom t-shirt store on Mooretown Road. Like University Tees, Williamsburg Graphics experiences the most traffic during the month of April. Graphic artist and campus representative Kelsey Robusto '11 said Blowout tank tops account for $25,000 of the company's $47,000 revenue for this month. This figure is nearly as much as the store's total January profit, which Robusto said was $28,000. Robusto noted that, although Blowout is typically associated with drinking and debauchery, many groups try to make the slogans on their tank tops sound innocuous.
"A lot [of the designs are] innocent," Robusto said. "[It's] interesting considering the reputation Blowout has, [but] many people are wearing [them] for the group mentality."
Nick Hoffman '16, a member of the Men's Ultimate Frisbee Club, shares this sentiment. Hoffman placed the order for his team and said that 18 out of 21 people purchased the shirts. Although he said the team did not order tank tops last year, many group members participated and shared ideas for the shirts.
"[The tank tops] are a good way to show you're a part of something bigger than yourself," Hoffman said. "It's a really good way to participate in [Blowout] and show [we're] funny."
The Women's Club Soccer team, like the Ultimate Frisbee team, also saw a large number of their members partake in purchasing Blowout shirts. According to team captain Sammy Smeaton '16, 23 of the 28 players ordered tank tops with "Blowout Like Beckham" embossed on the front. The group ordered shirts through the apparel company Bodek and Rhodes.
Smeaton said she likes the way the shirts represent the groups with which students are involved.
"I'm a big fan of [the tank tops]. I got four this year," Smeaton said. "It's fun to see people wearing the same tanks as you."
Smeaton will have a chance to see many of her peers clad similarly to her. Robusto said that Williamsburg Graphics was screen-printing for about 50 campus groups. Of those, 40 of the groups were celebrating the last day of classes with their designs. The other orders were not related to Blowout, such as shirts for residence halls and a cappella groups. The on-campus organization that ordered the most shirts was the Student Conduct Council, who gives out shirts to students who are able to blow a 0.00 on a Breathalyzer test later in the day. According to Robusto, they ordered 555.
Although April is Williamsburg Graphics's busiest month, Robusto said the company makes sure to prepare for the large number of orders. She added that Williamsburg Graphics tells local business to wait for their orders to be completed until after the last week of classes.
"We dedicate this entire week pretty much exclusively to [the College]," Robusto said. "We love working with [the College] and doing fun art. Being a grad[uate], I love seeing what students come up with."