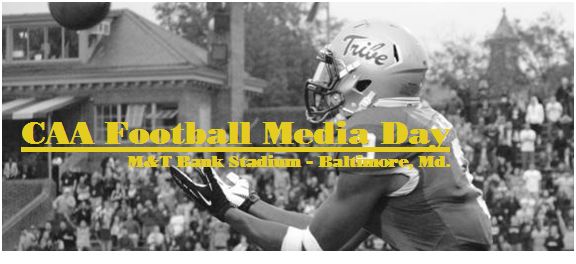 Continuing the long lead up to the 2014 season, William and Mary participated in the Colonial Athletic Association's Football Media Day July 23. The Tribe joined eleven conference rivals for an extended meeting with the press at M&T Bank Stadium in Baltimore, Md.
Head coach Jimmye Laycock, senior wide receiver Tre McBride and senior defensive end Mike Reilly represented the College. Coming off of a 7-5 season that included a 4-4 record in the CAA, the trio discussed the team's status going into the season and expectations for the rapidly approaching campaign.
There was apparent enthusiasm among the Tribe's representatives, particularly regarding the playmakers on both sides of the ball and the new additions to the coaching staff. The trio also discussed concerns such as the uncertainty at quarterback and the intimidating CAA schedule.
Laycock on the expectations of the upcoming season: "All I want to do is to tell [the players] to play as good as they possibly can, and then go from there."
Laycock on the Tribe's offense: "The quarterback situation is…critical right now. We don't have a lot of experience at that position; we have some young guys. We have to make a determination early on in the preseason of who's the furthest along…and then put our efforts there. That, in turn, will shape some of the things we do offensively."
Laycock on matching up with Virginia Tech: "You have to emphasize to your players about doing things the right way. If you do it the right way, you can offset size or offset speed. If you don't, then it can get magnified. Mistakes against a team like Virginia Tech will get magnified."
McBride on receiving attention from National Football League scouts: "It definitely gives me a lot of motivation to make sure my game is as fine tuned as possible…I don't let it cloud any of my preparation, if anything it fuels it."
McBride on the Tribe's opening game at Virginia Tech: "Coach [Kevin] Rogers told us that we're going into that game to win. We're not going in to keep it close or to be a good opponent, we're going in to win that game…Once we get through camp, I think we'll be well prepared."
McBride on the College's quarterback situation: "The position is so wide open going into camp, whoever performs the best will be put in that position. I don't know of any favorites, personally, but they're all going to get a shot…Coach Rogers is going to pick the guy who he feels can win for us, and I'm confident with whoever he chooses."
Reilly on his preparation for the season: "Personally, I've prepared just as much as I ever have. I think a big thing about my game is that I'm very competitive…and I have a passion for preparation. I really enjoy working hard, and I think that's what's going to carry me through this season."
Reilly on his goals for the season: "The ultimate goal is to get into the playoffs…but the goal is also to win the conference. Everybody wants that conference title…but at the end of the day, the goal is to win the national championship."
Reilly on his message to Tribe fans: "I just want to say come support us this year. We're really excited about this team, we've got a great defense, we've got a young offense with some explosive players, and we're going to give it all we can this year."
The College also received some preseason recognition from the CAA. Reilly was selected as the preseason CAA Defensive Player of the Year. The Tribe also had several players selected to the Preseason CAA All-Conference team, including Reilly, McBride, junior offensive lineman Andrew Jones, senior linebacker Airek Green, junior linebacker Luke Rhodes and junior cornerback DeAndre Houston-Carson.
Media Day also gave the Tribe's CAA opponents an opportunity to discuss the upcoming season. Each of the College's eight opponent's on this year's conference schedule had something to say about the Tribe.
Stony Brook offensive lineman Cody Precht on the Tribe: "We didn't watch William and Mary's film. I've heard they're a great program and it's going to be a test."
New Hampshire defensive lineman Cody Muller on the College's upcoming visit: "Our stadium's called the dungeon…[teams] just don't like going there…I don't know what it is, but we just play a little bit harder at home."
Villanova quarterback John Robertson on traveling to Zable Stadium: "I've heard William and Mary is a great place to play…I think it's going to be pretty cool to go down there. I think it's going to be a great game, they're a great team."
Delaware linebacker Pat Callaway on his history with the Tribe: "Last year they came and beat us at our own place, so we're pretty upset about that…we definitely want to come back and show them who's the better team this year."
James Madison safety Dean Marlowe on the College's Tre McBride: "He's an impact player. Last year we played them, he was great, he did a lot of good things for them."
Elon cornerback Miles Williams on his knowledge of Tribe: "I couldn't tell you much at all. I know they're the Tribe and they're the green and gold."
Towson's cornerback Tye Smith on the Tigers' upcoming match-up with the College: "It's going to be exciting, because they have good players and we have good players, so we're going to come out ready to play."
Richmond offensive lineman Austin Gund on his team's rivalry with the Tribe: "That rivalry's huge, both of us could be 0-11 going into that game and we'd still dog it out like we're playing for a national championship."
Between its wide open quarterback competition and a full slate of tenacious CAA opponents on the docket, the Tribe will have plenty to prepare for when it begins training camp in August. The College opens its season August 30, when it takes on Virginia Tech in Blacksburg, VA.
#WMTribe head coach Jimmye Laycock won't set date to name starting quarterback, says best player in camp will earn role. #caafb

— Flat Hat Sports (@FlatHatSports) July 23, 2014
Mike Reilly (@mikereilly95) at #caafb Media Day. Preseason Defensive Player of the Year. pic.twitter.com/dsTQ0bu1tP

— Flat Hat Sports (@FlatHatSports) July 23, 2014
#CAA predicted order of finish: (1) New Hampshire, (2) Villanova, (3) Richmond, (4) William & Mary. College received 3 first-place votes.

— Flat Hat Sports (@FlatHatSports) July 23, 2014