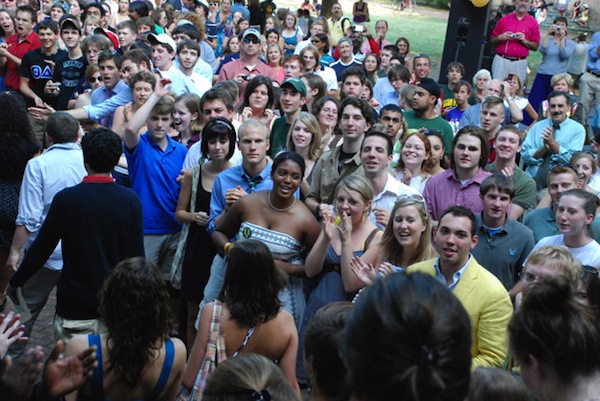 The College of William and Mary will welcome 1,521 new members to the Tribe for the 2014-15 school year.
The new students joining campus were selected from a pool of 14,552 applicants, marking the 10th year in a row the College has seen a record number of applicants.
"We're fortunate to have a competitive applicant pool," Interim Associate Provost for Enrollment and Dean of Admission Tim Wolfe said. "We want to put together a class that's going to be interesting. [We try] to do our best to find students who will thrive in this environment."
Adhering to the College's standard of academic excellence, Wolfe said the Class of 2018 carries with it a promise of scholarly success. Eighty-one percent of incoming freshmen whose high schools reported class rank graduated in the top 10 percent of their classes, while the middle percentile of the group who took the SAT scored between 1270 and1470.
In addition to academic prowess, the incoming freshmen also display diversity. Thirty percent of the Class of 2018 is comprised of students of color and 8 percent are first-generation college students. The students also boast a wide variety of interests. Among the incoming freshmen, there is a beekeeper, a published novelist, and an organic gardener who doubles as a member of a rock band.
"Having a diverse student body prepares students much better for the real world," Assistant to the Vice President for Student Affairs Jodi Fisler said. "I've been at [the College] since 1997, and our incoming class has been increasingly diverse. It's a wonderful from far and wide. Eight percent of the incoming students are from outside the United States, from countries including China, India, Canada, South Korea, France, Norway, the Netherlands, Japan and Zambia.  Additionally, 22 freshmen are enrolled in the Joint Degree Programme with St. Andrews University in Scotland.
"We know different types of background can make classroom and residence hall experiences more enriching," Wolfe said.
The freshmen will move into residence halls on Aug. 22 to begin their week of orientation, and will begin classes with the rest of the undergraduate students on Aug. 27
"The incoming freshmen should really enjoy this exciting year. They should enjoy it because they have a lot of people looking out for them as they make this transition," Resident Assistant Julia Varoutsos '16 said.
Students will have a busy week during their orientation period. According to Lauren Garrett, Director of the First Year Experience, the orientation program this year will aim to reach out to students from various backgrounds. In an effort to build a rapport between incoming students and upperclassmen, Orientation Aides will have the opportunity to lead more group discussions with the students. There will also be more sessions that students can attend to explore their interests.
"The sessions are a way for students to think outside the box," Garrett said. "We're really [excited for the new students to get here. We want them to know what it feels like to come home."
Wolfe said that every year the College's Admissions staff looks forward to new students becoming engaged members of the community.
"Our staff is incredibly excited and proud of this class that will be walking through at opening Convocation," Wolfe said. "We're always thrilled to see the class that moves in."