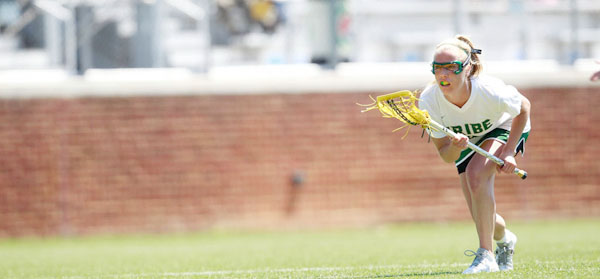 William and Mary's season finale against Old Dominion University April 26 occurred after last spring's final Flat Hat issue by a few days, which unfortunately pushed coverage of the game back nearly three months. In that final game, the Tribe (4-12) dominated the Monarchs (3-13) by a score of 16-11 at Martin Family Stadium.
With the victory, the College ended a challenging season on a strong note, having also upset Colonial Athletic Association rival Drexel (6-9) in a double overtime thriller the previous week.
Playing in their last collegiate lacrosse game, the Tribe seniors led with outstanding play: Taelor Salmon scored five goals with two assists, Bridget Brown put three in the net with one assist and Jenna Dougherty added three goals. Junior Alexi Farmakis, who provided two goals and three assists, also recorded a career-high five draw controls.
Although the teams were evenly matched in groundballs, turnovers and fouls, the College held a major advantage on the offensive side of the ball and dominated draw controls (20-9), while also eclipsing the previous season high for shots with 37.
Junior Ellen Shaffrey broke the school single-season record for draw controls, notching seven against the Monarchs to set the new record at 54.
Four Tribe members earned recognition from the CAA for their performance in the 2014 season. Senior defenders Hannah Clarke and Farmakis each received 2nd-team CAA honors, while fellow defense freshmen Julie McGrath and Abby Junior each earned All-Rookie distinctions.
Though it was a tough season with several matchups against top tier programs such as Duke, Maryland, UVa. and Ohio State, the Tribe carries plenty of momentum heading into the off-season. Hillary Fratzke, entering her second season as William and Mary's head coach, helped Northwestern University secure two NCAA titles as an assistant coach in 2012 and 2013. With a solid core of rising seniors and a strong finish to last season, look for Tribe lacrosse to turn some heads once the spring season rolls back around.