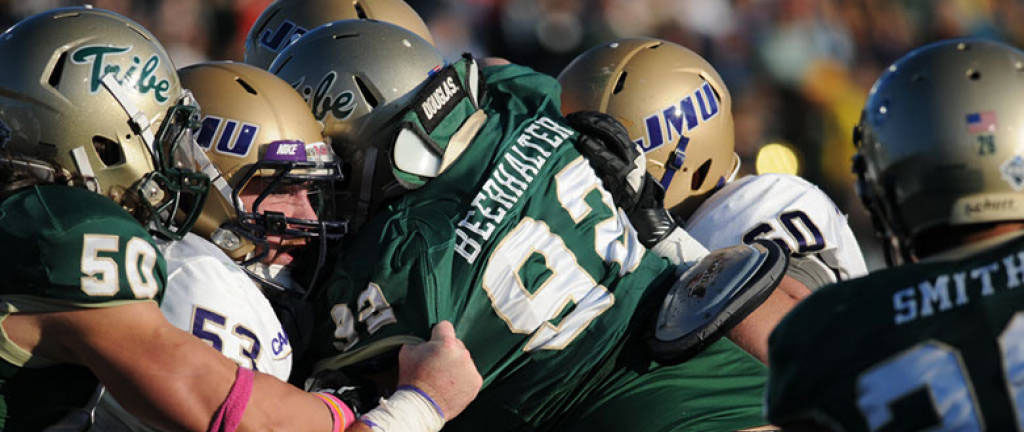 With a long history, there is no love lost between William and Mary and in-state rival James Madison University.
The rivalry's roots trace back to 1978, with the Dukes owning a 18-15 win advantage. This competition only grew stronger with its extension through the years; for instance, it was particularly fierce in 1995 when, according to Dave Fairbank of the Daily Press, many of the players knew each other and their respective programs were among the best in the state.
As then running back Troy Keen put it, "It's only Tuesday, and at least 10 people have come up to me between Saturday night when we got back from Charlottesville and today and said, 'You guys have to kill Madison. I hate Madison.'"
In 2004, the Tribe ranked No. 10 in the Division I-AA polls, beating No. 4 James Madison. The Dukes avenged the regular season loss with a come-from-behind 48-34 victory in the Colonial Athletic Association playoffs that same year, going on to win the national
Recently, the programs have played close games, with neither team winning by a large margin. The College's most recent match-up with the Dukes ended in a homecoming victory, 17-7. The Tribe's defense held James Madison to 298 yards of total offense and, despite allowing the Dukes to score in the second quarter and compile a 187-131 yardage advantage by halftime, put in a solid second half effort to win.
2012's game was even more hotly contested, with No. 4 James Madison winning in double overtime, 27-26. The heartbreaking loss lasted 3 hours and 13 minutes, and boiled down to one final series of plays. Head coach Jimmye Laycock opted to not attempt an extra point, which would have forced a third overtime. Instead, the potential game-winning two-point conversion fell incomplete.
"If we kicked the extra point, they were going to have to go back out there again and play defense," Laycock explained following the game. "Our defense had been out there so much."
With both programs trading wins, close games have become the norm. "Either team could have won it in certain situations… For our guys to battle like they did, I think they deserve a heck of a lot of credit," Laycock said, echoing a sentiment true of most matchups with the Dukes.
The College faces James Madison Nov. 1 in Harrisonburg, Va.