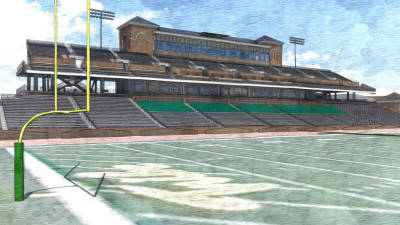 William and Mary made headlines Tuesday morning, announcing plans for a $27 million dollar renovation of Walter J. Zable Stadium. The extensive improvements to the 79-year-old venue will commence early next year and will be completed before the 2016 football season.
The renovation was made possible by donations from Hunter J. Smith '51, James W. McGlothlin '62, J.D. '64, LL.D. '00 and Frances G. McGlothlin '66, as well as an additional $10 million contribution from the estate of Walter J. Zable '37, LL.D. '78.
The renovations will include new seating, improvements to current seating, a new press box, better restroom facilities and enhanced concessions. The renovation will also make the stadium more accessible and safe, and will feature superior lighting and sound systems.
The announcement took place in the atrium of the Jimmye Laycock Football Center, with Tribe head coach Jimmye Laycock, Athletic Director Terry Driscoll and College President Taylor Reveley in attendance to speak about the renovation plans. Reveley was particularly pleased with the opportunity to revitalize a College landmark.
"The stadium really, truly needs a jolt — a new life — if it is going to continue to meet the needs of the university. It can't simply go on as it has been," Reveley said. "Thanks to the great generosity of … Walt, Hunter Smith, the McGlothlins — Jim and Fran — new life is now feasible for the stadium."
Laycock continued, explaining how the new and improved Zable stadium will dramatically impact the school's proud football tradition.
"I cannot adequately express my excitement for the enhancement and changes that we're going to make at Zable Stadium," Laycock said. "It really speaks strongly, not only in recruiting … but also in recognition of former players and coaches. … I look forward to many, many more exciting, filled stadiums coming up."
The new stadium is also considered to be a new centerpiece for the College's campus and for the entire community, a gathering place to foster the unity that defines Tribe sports fandom, Driscoll elaborated.
"If you're a football fan, you can see great football, but if you're more interested in the social components, you'll be able to enjoy that too," Driscoll said. "It's really going to be a focal point that will bring the campus together and the community together, and that's what excites us the most."
The announcement highlights an exciting week for Tribe football. While designs and funding for the team's future home continue behind the scenes, the Tribe travels to Blacksburg, Va. this Saturday to take on Virginia Tech. The game is scheduled for 4 p.m. and can be viewed on ESPNews.